Ten St. James athletes sign letters of intent at Fall Signing Day Ceremony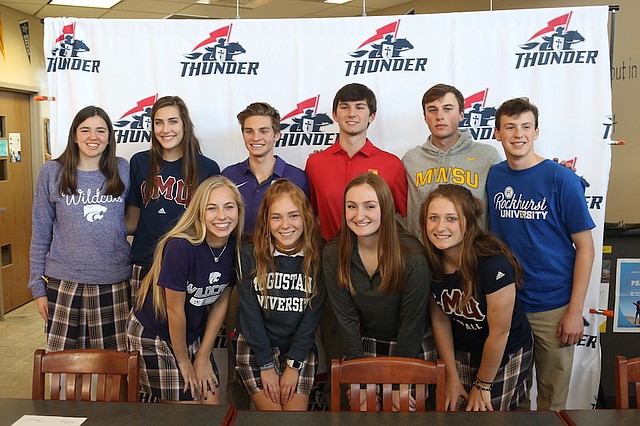 Lenexa — Ten St. James Academy student-athletes officially announced their college choices in a Fall Signing Day Ceremony Wednesday afternoon at St. James Academy.
Seniors Jake Fiscella, John Hunter, Kelly Kleekamp, Audrey Klemp, Bridget May, Page Mindedahl, Jack Moore, Jared Munk, Jackie Storm, and Caylee Thornhill participated in the ceremony.
Fiscella committed to play lacrosse at Rockhurst University.
"(I picked Rockhurst because of) how close it was to home. They have a good business program. All my family is here. I didn't want to leave," Fiscella said.
Fiscella talked about what his focus will be heading into his freshman year.
"I just want to help the team as much as I can. I also want to focus on school. I want to try to compete and get my spot, but I'll just see what happens," Fiscella said.
Hunter decided to continue his basketball career at Pittsburg State University.
Kleekamp elected to travel to South Dakota to play soccer for Augustana University.
"(Augustana) had the degree program that I really wanted with a really intense soccer program. They have a large academic focus. A big thing about their program is that they have a high team GPA and they have high moral ethics. That was really important to me when I was making my decision," Kleekamp said.
Kleekamp talked about sharing the ceremony with her teammate in Thornhill.
"I'm really happy for her. It's a really humbling experience to sign with one of your teammates right next to you. You see how strong the St. James soccer program actually is. It's really amazing and humbling to witness," Kleekamp said.
Thornhill, Kleekamp's teammate, chose to continue her soccer career at Kansas State University.
"I just really loved the coaches and the environment. I have a club teammate who's going there too, so it's something that I think is going to be really fun. I just love the environment there," Thornhill said.
Thornhill talked about what her coaches expect her role to be in her freshman year.
"They see me as playing right away as long as I keep working hard and pushing myself and being able to build as a player. They see me as being able to start in my freshman year and add a lot to the program," Thornhill said.
After capturing back-to-back 5A State titles, Klemp and Storm both made their college decisions. Klemp elected to continue her volleyball career at Loyola Marymount University, while Storm chose to continue her career at Central Missouri University.
Klemp talked about her decision to commit to Loyola Marymount.
"It was lots of emails and lots of calls with a lot of different coaches. (What helped her decision) was the visit and being in that culture. I immediately fell in love with it and I knew that I wanted to go there," Klemp said.
Storm talked about her decision to go to Central Missouri.
"I just wanted to stay somewhere that wasn't too far, because I wouldn't want to be far from home. I wanted to go with a program that I knew I would be able to be successful in while also having fun and being able to have a career at the end of it. I'm really happy with what I chose," Storm said.
St. James volleyball head coach Nancy Dorsey talked about seeing two of her players make their collegiate decisions Wednesday.
"It's so exciting. An important part of what our job is to prepare them for the next level and make sure that they get to do what they love. We're very excited for them. We know that they'll go on to do great things," Dorsey said.
May chose to continue her rowing career at Kansas State.
Mindedahl chose to play softball at Loyola Marymount. During her sophomore year in 2017, Mindedahl finished a 5-16 season with a batting average of .508, recorded 32 hits, 16 RBIs, and scored 18 runs.
"I knew I wanted to go to a California school. The campus is one of the most beautiful things I've ever seen. It's five minutes from the beach, so I can't really complain with that," Mindedahl said.
Mindedahl talked about going to the same school as Klemp.
"It's awesome. (Klemp) transferred to my middle school in seventh grade, so I'll be with her for another four years. It's really exciting. I'll have someone there that I'll know and someone to travel back and forth with," Mindedahl said.
Moore also chose to attend Kansas State to continue his cross country and track and field career. Moore placed third at the 2018 Class 5A Cross Country State championship with a time of 15:55.0. Moore placed sixth in the 3200-meter run event at the 2018 Class 5A Track and Field State championship with a time of 9:38.72.
"I was debating whether to go (Division) 2 or (Division) 1. I really had a connection with Kansas State and the team and the coaches and the school side of things. The fact that it's the Big 12 (Conference), I'll be looking to make a big impact. I think we can build a really good team up over there in Manhattan," Moore said.
Munk chose to continue his baseball career at Missouri Western University. Last season, Munk finished an 8-13 season with a .293 batting average. He recorded 17 hits and seven RBIs while scoring 15 runs and drew nine walks.