Mill Valley basketball team prepares for regular season in first week of practice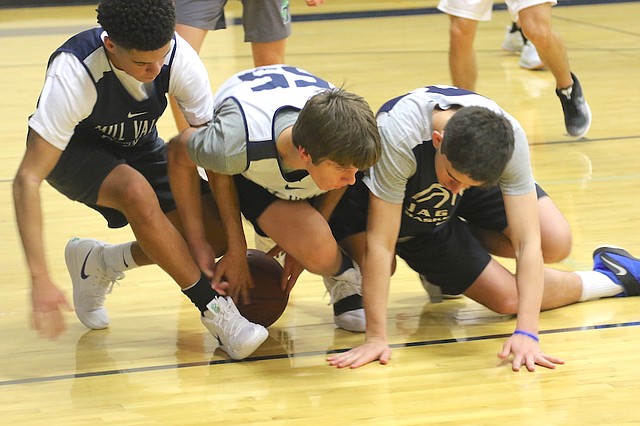 Following three days of tryouts, the Mill Valley High School boys' basketball team held its first team practice of the preseason Thursday night at Mill Valley High School.
Mill Valley head coach Michael Bennett talked about how Thursday's practice went.
"It was good. We had pretty good energy. When it's day four, you're going to get tired. Your body's going to start aching. We've been going pretty hard," Bennett said. "We're just continuing to manage that stuff, but also continuing to find ways to have energy. We're continuing to get better.
Bennett gave his early impressions about his team.
"(We've got) a lot of new faces. I really like our kids. They work hard. They're together. They want to be successful. They're willing to work and put in the time that's necessary to be successful," Bennett said.
Mill Valley graduated 10 seniors from last year's team. However, it has several incoming seniors returning to lead the team. Bennett talked about how that returning experience will help his current team.
"They've played basketball together since they were in middle school. It's good that they already have some familiarity with each other. They've all grown up in the program," Bennett said. "I think it's good. They get their chance to go out and perform at a varsity level in a very competitive conference. It gives them an opportunity to show off what they've been doing."
One of the seniors that Mill Valley lost to graduation was Cooper Kaifes — one of the stars of last year's team. Kaifes, who is currently a freshman at Loyola University in Chicago, has started his first season on a strong note.
In his first collegiate game against UMKC Nov. 6, Kaifes led Loyola Chicago with 19 points on 6-of-8 shooting from the field, including a 5-of-7 mark from three-point range. Heading into Thursday night, Kaifes ranks sixth on his team with a mark of 6.3 points per game, on a team-high .545 field goal percentage for a defending Final Four Loyola Chicago squad.
Bennett talked about Kaifes' start with Loyola Chicago.
"It's awesome. It's impressive. He went out in his first game and score 19 points, and he shot it tremendously well. I couldn't be more proud of a kid going for it and pursuing basketball and doing it at one of the highest levels. Being able to see that and witness that is awesome," Bennett said.
Bennett noted that it would be difficult to replace a player like Kaifes this season.
"He was the all-time leading scorer in our program. He scored about 20 points per game last year. It's going to be hard. We have guys who want to step up and want to put in the time to try to fill that void," Bennett said. "It might not be just one person. We're going to have to have a team effort to try to get that void filled and continue to try to grow as a team."
Mill Valley finished last season with a 12-13 record. Bennett talked about how his team can try to improve on that mark.
"We just need to take it one game at a time. We just need to focus on the game in front of us. We're not really going to worry about the record. We're just trying to focus on the team that we're playing, and the record will take care of itself," Bennett said.
Mill Valley will open its season Dec. 3 in a road match against De Soto High School. Bennett talked about what his team's focus will be heading into the next two weeks of preseason practices.
"(The focus is going to be) growth. We're going to try to get better. We're going to try to manage sore bodies, injuries, and the types of things that happen in the first couple of weeks. As we get closer to the games, we're going to focus on getting more dialed in and execute offensively and defensively," Bennett said.