Is the Shawnee Civic Center a community center? Shawnee city staff says 'no'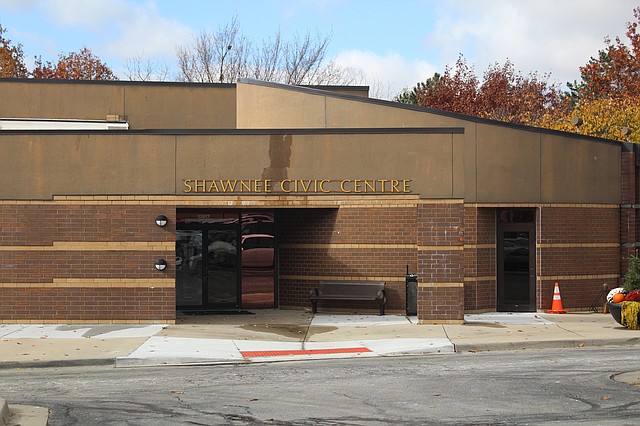 "We don't need another community center. We already have one by the Shawnee Library."
This was a comment in an email sent to the Dispatch last week. It's a sentiment that has been echoed through numerous emails and Facebook messages sent to the Dispatch, and scattered throughout its Facebook comment section on various occasions.
It is apparent that many Shawnee residents believe the Shawnee Civic Center—located at 13817 Johnson Drive—is a community center.
So, is it?
When the Dispatch reached out to Neil Holman, the Shawnee parks and recreation director, his answer was "no."
The Shawnee Civic Center, which opened 27 years ago, is actually a rental facility.
It has a two-court gym, two kitchens, one aerobics room and five meeting rooms.
Dance classes, computer lessons, robotics camps, voting and even the Mayor's Third Thursday coffee sessions all take place at the 23,000 square-foot civic center.
On weekends, it's a popular venue for weddings and quinceañeras.
During weekday mornings, it's not an unusual sight to see senior citizens enjoying a round of pickleball on the basketball court or see businesspersons seated behind laptops in an enclosed meeting room.
Each week, around 250 to 300 people walk through its doors.
"The civic center is a great space and it's well-used, but it's not a community center," said Holman. "We get phone calls several times a month from people asking if we have free weights or exercise machines here. We don't."
The civic center does not have a fitness center component or a pool.
Traditionally, community centers feature a fitness room, gymnasium, pool, childcare and outdoor recreational amenities.
The Matt Ross Community Center in downtown Overland Park, for instance, features an indoor children's playground, a walking/jogging track and three indoor pools, including a hot water spa.
Over in Olathe, one of its community center's biggest draws is its aquatic facility, which boasts a leisure pool, lazy river, hot tub, rock climbing walls with four waterfalls and diving platforms, two water slides and an outdoor spray-park.
If approved by voters in the spring, the proposed $34 million Shawnee community center, set for 61st and Woodland, could potentially include:
a warm water leisure pool

an outdoor sprayground

a multi-activity gymnasium

a turf field house

an elevated running track

a fitness center with rooftop exercise deck

a group exercise studio

three multi-purpose classrooms

a lounge area

locker rooms with family changing rooms
Community centers are typically places where people of all ages gather throughout the day for a variety of recreational activities.
As for the Shawnee Civic Center—a rental facility—such an activity is not doable.
"The civic center is not a place where families could realistically hang out each day," Holman said.
After all, if a group or organization rents the gymnasium for an all-day event, or a pickleball tournament occurs, it eliminates open gym time.
Although residents are welcome to drop by the civic center during its open hours, there really isn't much to do there other than pre-registered activities, classes, meetings or events.
The city of Shawnee is currently one of the last major Johnson County cities left without a community center.
But, does the city really need one?
A look at nearby community centers
There are numerous community centers surrounding the city of Shawnee.
Residents living on the eastern side of Shawnee aren't too far from community centers in Merriam, Mission and Lenexa.
The city of Merriam has the Irene B. French Community Center—sans pool—located at 5701 Merriam Drive, and it has another community center, featuring splashier aquatic amenities, set to open in 2020.
The city of Mission has the Sylvester Powell, Jr. Community Center at 6200 Martway Street.
The city of Lenexa has a community center—sans pool—located at 13420 Oak St.
Many families in western Shawnee aren't too far from the Lenexa Rec Center, a 100,000 square-foot facility near the Lenexa City Center. It features a "cutting-edge fitness equipment, a fun-filled indoor pool, a jogging/walking track that encompasses a full-service fitness floor and two gyms for open play," as stated on the city's website.
There is also a new community center being built—with a pool—at Lake Quivira, which will be open to members of the Lake Quivira Country Club.
Although there are several community centers in reasonable driving distance for Shawnee residents, there is one major drawback: fees.
"If residents want to use a community center in Merriam or Lenexa, it's a significant increase in price to obtain a non-resident membership," Holman pointed out. "Plus, a community center (in Shawnee) would keep those dollars in Shawnee."
With I-435 being a division in the city—both physically and metaphorically—the hope from city officials is that a community center will bring both sides of the town together, with families from either side of the interstate enjoying its amenities.
Holman calculates the center of Shawnee as being roughly 63rd and Lackman.
The proposed community center would be built just five minutes west of that location.
Plus, he added, it would provide a needed-balance.
The eastern side of Shawnee claims both city pools, Shawnee Town 1929 and the Civic Center; western Shawnee currently doesn't have a major city facility.
A future Civic Center expansion
There is a possibility that the Shawnee Civic Center will one day be more than a rental facility.
In 2017, the city purchased 2.5 acres to the northwest of the building. The heavily wooded area, with a vacant house and barn, could one day be space for the city to construct a recreational component, such as a fitness center, to the Shawnee Civic Center in the future, should the need arise.
So, some residents may ask, why not just build that part now and scrap plans for the community center?
It wouldn't be the same thing, Holman answered.
The additional 2.5 acres adjacent to the civic center would only be enough land to add limited recreational space for workout equipment or aerobics rooms. There wouldn't be enough room for a pool, or any of the other large-scale amenities a community center has to offer.
"It won't serve the same purpose and it won't be a full recreational facility," Holman said. "It wouldn't serve our growing population and its needs."
The civic center expansion could be helpful, however, once the city reaches its full capacity.
After Shawnee expands to its furthest city limits, the city's total buildout will be 115,000.
An increase in property taxes
Design consultants have already estimated a new 63,000 square-foot community center would cost roughly $34.6 million. An additional six-lane 25-yard lap pool, or an eight-lane one, could cost anywhere from $5-$7 million extra.
The city plans to build and maintain the new community center using revenue from a proposed mill levy increase, which would be voted on during a spring ballot question.
Early next year, the city council is expected to vote on the details of that election.
According to Shawnee deputy parks and recreation director Tonya Lecuru, the increase in property tax is based on the cost of the house, and to combine a lower income and higher income house can skew the numbers.
The city estimates that for a person whose home value is $150,000, the increase in tax would be $7.19 per month, or $86 per year.
For a home valued at $300,000, the increase would be $14.38 per month, or $173 per year.
The proposed annual membership fees are as followed:
Youth: $360 resident; $432 non-resident

Adult: $420 resident; $504 non-resident

Senior: $360 resident; $432 non-resident

Senior plus one: $420 resident; $504 non-resident

Family: $720 resident; $864 non-resident
There will also be daily, monthly and possible punch card options, Lecuru added. The city is also working on a scholarship program for lower-income residents.
These fees are comparable to neighboring communities and lower than Lenexa, she pointed out.
What can you do?
Are you excited for a new community center to open in the city? Do you think it's a facility that would benefit you and your family?
Or, do you think a new community center is a terrible idea? Are you upset it would require an increase in property taxes?
No matter your opinion, the best thing you can do is educate yourself on the facts. The city encourages you to visit the Shawnee Civic Center to see what that facility has to offer.
You may also want to visit a community center or two in the area, such as the ones listed in this article, to get an idea of what such a facility is like in person.
If you feel passionately about the proposed community center either way, start a conversation with your neighbors. There are many residents in this city who are still unaware a community center is being proposed, or that a mill levy increase is even possibly up for a vote next year.
Also, don't be afraid to contact city council members or the mayor.
Your ward representatives are listed on the city's website, along with contact information, such as email and phone numbers.
Members of the governing body were elected to represent you and they are open to hearing your views and answering your questions.
In addition, early next year, the city will be holding two public meetings to showcase the final community center design and answer questions from residents.
Those dates have yet to be announced, so be sure to keep an eye out on the city's website and social media pages for that information.
The city's website is cityofshawnee.org.