Early-morning crash on I-435 leaves one man injured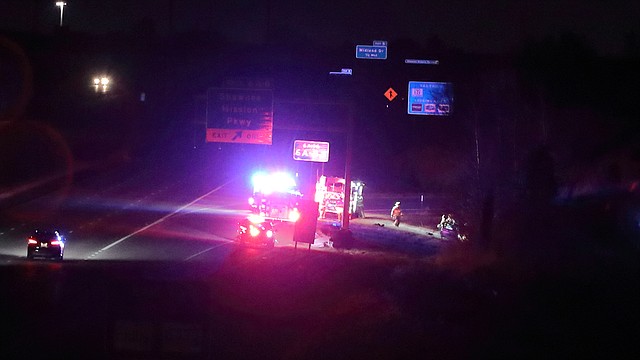 A man in his late teens was transported to an area trauma center after he was involved in a single-car crash early Sunday in Shawnee. The crash was reported to police just after 3 a.m.
Radio traffic indicates a witness told dispatchers that the vehicle was driving northbound on Interstate 435 just north of Shawnee Mission Parkway when the car crossed through the median, across the southbound lanes, and into the ditch on the west side of the Interstate.
The crash was near the start of the exit ramp from southbound I-435 to Shawnee Mission Parkway.
Shawnee firefighters arrived to report the vehicle was not heavily damaged, but that the driver was trapped inside.
Firefighters worked for about 20 minutes to free the driver from the car.
Johnson County Med-Act transported the man to the Overland Park Regional Medical Center in "stable condition."
Major Sam Larson of the Shawnee Police Department says, "the driver told us that a deer struck his vehicle, then he swerved off the road and lost control and struck the guardrail."
---
Operation 100 News provides overnight news coverage for the Shawnee Dispatch. Follow on Twitter for real-time updates.