Get to know new Ward 3 council member Lisa Larson-Bunnell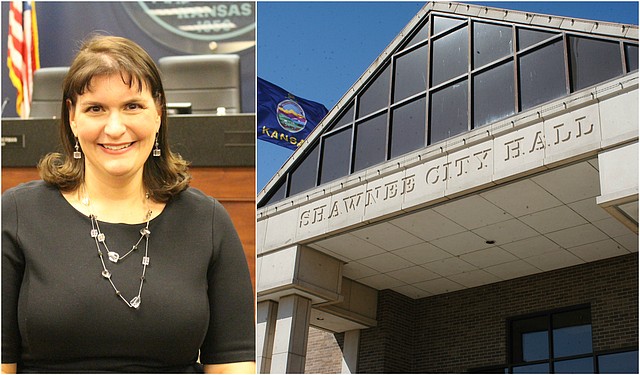 Earlier this month, the city of Shawnee welcomed a new council member to its governing body.
Attorney Lisa Larson-Bunnell was appointed to fill the vacant Ward 3 seat, which was left empty in mid-September when Justin Adrian resigned.
She will fill the seat until Jan. 2020; a special election next fall will decide who will permanently take over the position for the remainder of its term, which ends in Jan. 2022.
Last week, the Dispatch checked in with Larson-Bunnell about her priorities for the Ward 3 and her goals as a councilperson.
Why she wants to serve
Although she may be a new face in the council chambers, Larson-Bunnell has ties to the community that stem from her young adulthood.
She moved to Shawnee with her parents in 1999 and a couple years later, she left for law school. She moved back to Ward 3 in 2012. The married Shawnee mom currently serves as the associate counsel and compliance director at North Kansas City Hospital.
She told the Dispatch she pursued the vacant Ward 3 seat because western Shawnee needs two engaged and accountable representatives on the council. She believes her professional experience and understanding of the city's Ward 3 neighborhoods made her a strong candidate.
As an attorney at a non-profit hospital, she often works with governmental entities and she is familiar with the legislative process, Larson-Bunnell pointed out.
"Public service often gets a bad name," she said. "We've been let down by our leaders too often. It is important to me to serve because our government and public policies are a reflection of our values, and I want our government to be worthy of our pride. I pledge to work every day to earn the trust of the citizens of Ward 3."
Priorities for Ward 3
With new retail businesses opening in Ward 3 and many companies hiring, there is a positive momentum happening in Shawnee, Larson-Bunnell told the Dispatch. She aims to keep that momentum going.
"The proposed community center is a major step in that direction," she said. "At the same time, we need to be mindful of the tax burden our citizens bear. This must be balanced with our efforts to grow the city and attract new businesses and residents."
In addition, she continued, improving and maintaining infrastructure—including stormwater management systems and roads—is vital to sustaining the city's viability.
"We should continue to evaluate the most effective way to finance these projects, particularly as more areas are developed and our population grows," she said.
Goals as councilperson
Her first goal as a councilwoman will be to listen, Larson-Bunnell emphasized.
She wants to maintain strong communication and transparency with Ward 3 residents, community leaders, business owners and her fellow councilmembers.
If anyone has a question or concern, she looks forward to their calls and emails. She will also have council Facebook, Twitter and Instagram pages to keep the community informed.
"I do not come to this position with a rigid agenda or axes to grind," she said. "I will work with anyone who has ideas to improve our city. I pledge to bring a collegial and collaborative approach to the council."
You can find Larson-Bunnell on Facebook at @LLB4Shawnee, on Twitter at @L-Larson-Bunnell and also on Instagram at llb4shawnee.
What she loves about Shawnee
Larson-Bunnell said she and her husband chose to raise their son in western Shawnee for its safe and close-knit neighborhoods.
They also appreciate the highly-rated schools, public parks and variety of businesses.
"Shawnee is a fairly large city, but it rarely feels that way," she said.