A home away from home: senior care facility opens in Shawnee
There's no place like home.
And for 12 seniors diagnosed with dementia, that home will be in Shawnee.
The first Golden Oaks Memory Care Home will be opening in a quiet and well-maintained downtown residential neighborhood next month.
The 5,000 square-foot home features 12 bedrooms, six individual bathrooms, two spa bathrooms and a wellness center, among other amenities.
For the past several months, Golden Oaks has been renovating the single-family home to fit the needs of a group home facility. It was made ADA-accessible and a 2,000 square-foot wing was added to the back.
Basement and upstairs rooms will be used for staff; around 25 security cameras were installed in and around the home.
The 18-member staff will include a medical director, nurse, CMAs, a chef and a maintenance worker.
Once residents are fully settled in, family photos and mementos will grace the walls and administrators hope to one day have a veteran wall to honor those who have served.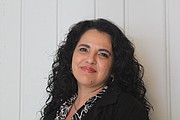 "We want it to be like a family," said Nancy Majors, the operator of Golden Oaks Homes, a Kansas City, Mo. based company. "It's not just a house with a staff going through a motions—it's a home."
Majors—who has worked in the long-term care industry for 23 years—sees her work as honoring her late father, who had dementia.
She's excited to get to know the residents who will make Golden Oaks their home soon.
Indoor and outdoor activities for the residents will be music, gardening, pet therapy, painting and other personal interests of the seniors.
The Shawnee memory care home is the first one for Golden Oaks, a company which was founded in 2017 by three partners—two real estate developers and a doctor.
The partners visited seven different cities in the Kansas City metro area, before ultimately deciding Shawnee was the best fit.
Co-owner Kalon Breckenridge told the Dispatch the city of Shawnee was the most welcoming.
"When I spoke to the city planning staff, they were so friendly and willing to work with us," he said. "Shawnee is like its own community. The people here like to stay here and they help serve the community. There are also lots of seniors in the area."
His desire to open a group care home stemmed from his own life-changing experience.
Breckenridge was diagnosed with leukemia as a college student, forcing him to drop out to receive treatment.
He got into real estate as a way to make money during that time.
Once he recovered, he wanted a way to help others in the community. When he heard about assisted living homes from a friend, he realized it was his calling.
"I didn't want to just open a home to open a home—I wanted to make a difference," he said. "We (partners) want to create a place that feels like a real home, not a facility. We want people to feel comfortable."
Plus, memory care homes are a growing need across the world right now, he pointed out.
"There are around 10,000 people turning 65 all over the country each day," Breckenridge said. "For the first time in human history, there are going to be more people over 65 than under five. Homes like this one are a huge need which will only increase over time."
Golden Oaks plans to build more memory care homes in the Kansas City area in the future, but right now, it just wants to focus on making the Shawnee one great.
For more information about the Golden Oaks Memory Care Home in Shawnee, visit facebook.com/GoldenOaksMemoryCareHome.