Shawnee Fire Department debuts new fire truck to public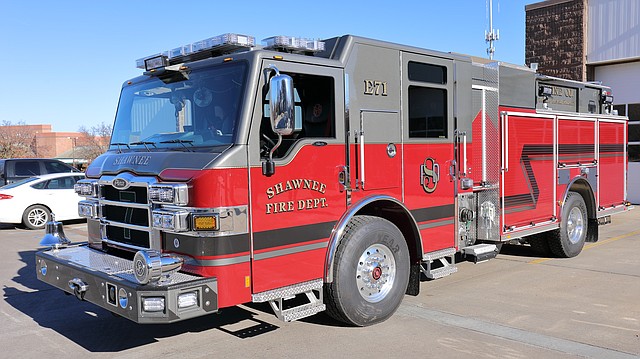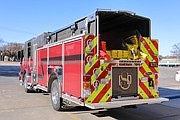 After months of planning, designing and anticipation, the Shawnee Fire Department is debuting its newest addition to the fleet. The custom built 2018 Pierce Velocity ran its first calls as Engine 71 out of the John B. Glaser Fire Station this week.
The John B. Glaser Fire Station, also known as Station 71, is one of the busiest fire stations in the state of Kansas and home to the second busiest Johnson County Med-Act ambulance in the county.
At the direction of Fire Chief John Mattox, the department's apparatus committee designed the new engine to be the first to display an updated gray over red color scheme.
Shawnee Fire Marshal Corey Sands and Firefighter Duffy Muehlberger gave Operation 100 News a sneak peek of the new engine last week.
The color scheme is a subtle nod to the history of the Shawnee Fire Department, Sands said.
The burgundy of the new engine resembles the burgundy of the 1930 REO Speed Wagon.
From a small compartment behind the driver's door for that firefighter to store their equipment to leather seats embroidered with the department's logo, the engine was built from the ground up with functionality and cleanliness in mind. The leather seats, which can easily be wiped down when dirty, are an example of another proactive step the department has taken to help firefighters keep their equipment and living quarters free of cancer-causing contaminants.
The five-year-old fire engine that previously served as Engine 71 will be reassigned to Fire Station 74 where it will become Engine 74 when the new station opens in January.
---
Operation 100 News provides overnight news coverage for the Shawnee Dispatch. Follow on Twitter for real-time updates.