Shawnee Mission program leads students to success
Partnership equips developmentally disabled young adults with job, life skills
Entering the real world after high school can be scary for any young adult. Doing so while having a disability can make the experience even more daunting.
A new program in the Shawnee Mission School District, however, is helping to ease that transition for special education graduates.
In August, Shawnee Mission partnered with Shawnee Mission Health to initiate Project SEARCH, a national program which helps students who have disabilities establish the necessary skills to obtain paid employment.
Through the Shawnee Mission program, eligible participants must be a district graduate between the ages of 18 and 21, who has an intellectual or developmental disability.
The program—which takes place during the school year—features hospital internships and classroom instruction.
Interns work real jobs at Shawnee Mission Medical Center in various departments, such as the hospital cafeteria, birth center or childcare center, for example.
Classroom lessons focus on resume development, interview skills and social skills.
The goal is that by the end of the program, each intern will find full-time or part-time employment.
This year, the program features seven interns.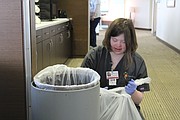 "A job is a very different experience than going to school every day," said Amy Milroy, the Shawnee Mission Health business liaison for Project SEARCH. "It's a huge transition because you need to build up social skills and learn to perform tasks required for job settings. There are so many skills they need to learn which we take for granted—knowing how to interact with coworkers, figuring out where supplies are kept and even learning how to put on gloves."
Milroy is the director of the Lee Ann Britain Infant Development Center at Shawnee Mission Health.
She works with families who have young children with special needs, from cerebral palsy to autism.
"I help families get started on their journey of raising a child with a disability, so it's really cool this program allows me to be involved with those kids entering adulthood now as well," Milroy said. "
So far, the students enrolled in Project SEARCH are enjoying the opportunity.
Noah Cramer, a 2018 Shawnee Mission North High School graduate, said he finds the work exciting. For the past several weeks, his task has been to pick-up and deliver lab samples from different parts of the hospital.
As he walks through the hallways, he always has a friendly smile for people he comes across, and he even remembers names.
"I like talking to people who work here—people with different backgrounds," Cramer told the Dispatch.
Fellow intern Heather Hoback, a 20-year-old from Overland Park, echoed his sentiment.
Her tasks include straightening up the surgical waiting room, restocking the coffee cart, laundry and other housekeeping tasks.
"It's a friendly place," she said.
The interns aren't treated as outsiders at the hospital—employees consider them part of the Shawnee Mission Health team.
Milroy said she's watched the students blossom during their first semester in the program, and she couldn't be prouder.
She is excited to watch them succeed.
"I love to watch how people in the hospital—from visitors to employees—interact with them," she said. "Everyone has really embraced the interns. It's opening the eyes of people in the community. People with disabilities have a lot to offer and they can improve the culture of the workforce. These interns bring a different perspective and it's fun to watch them shine."