Shawnee Mission North basketball team works to improve in final week of preseason practice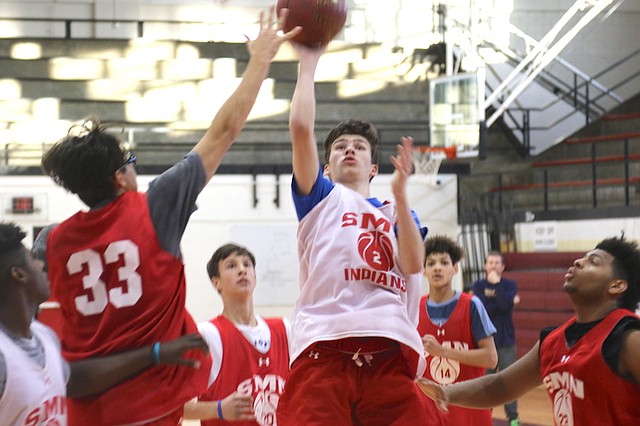 After a day off due to a snow day, the Shawnee Mission North boys' basketball team began its final week of preseason practices Tuesday. Following Tuesday, Shawnee Mission North will have three more practices until its season opener Saturday against Liberty High School.
Shawnee Mission North head coach Steven Stitzer talked about how his team has practiced through the preseason.
"We've got to feel it out. It always seems like there's never enough time. In Kansas, you don't get a lot of time. You just work with what you've got and try to fix what you need to fix. It's trial and error," Stitzer said.
Shawnee Mission North will roll into this upcoming season with an experienced roster. It has 11 upperclassmen on its roster, including five seniors. Stitzer talked about how the experience of his upperclassmen can help his team.
"It can be a double-edged sword because some of these guys are going to have to play out of position. We're not a tall team. We have really good guards. We're going to have to wait until that first game to see what happens," Stitzer said.
Stitzer mentioned some players that have stood out to him through the preseason practices.
"(Junior) Zach Nelson is our point guard. (Senior) Amari Williams is our shooting guard. They're interchangeable. (Senior) KT Harris is another guard for us. They've all got experience. (Junior) Darion Holland has been playing well," Stitzer said. "They're fast. They play hard, and they play like we want them to play. (Sophomore) Ethan Salvino and (freshman) Miles Cole are both going to play for us this year."
Stitzer talked about what he wants to see from his team this season.
"I want to see teamwork. I think we lacked a lot of that last year. From what I've seen already, I think they can work as a team. I think they're so coachable. That starts with (Nelson). He wants to be coachable. I think he's one of the better point guards in the league," Stitzer said. "These kids can do a lot. We can upset some teams, and hopefully, we don't get upset. Teamwork is the key."
Shawnee Mission North will open its season Saturday against Liberty. Stitzer talked about the matchup.
"They've had our number the past two years. We've got to go play. Hopefully, they don't match up with us and we're not in a really slow game. We want to play fast, and that's what we're going to try to do," Stitzer said. "Looking at their roster from last year, they lost some of their better players. Some of our kids have matured, as well. We have our work cut out for us."