Midland educator wins Farmers Insurance teacher grant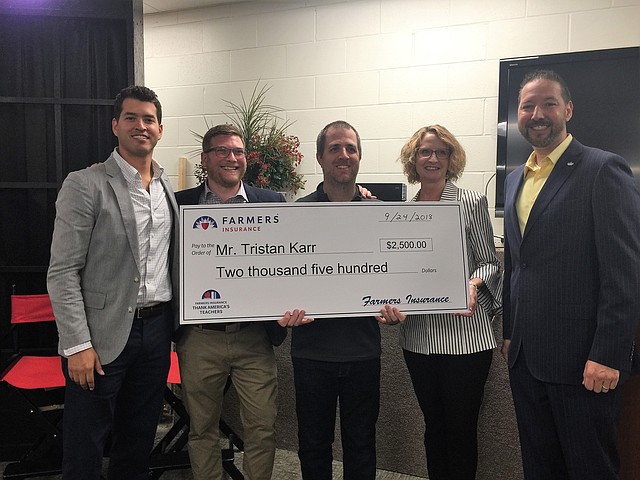 Local Farmers Insurance agent Laurie Mendon announced last week that Tristan Karr of Midland Adventist Academy has been honored with a $2,500 educational grant from Farmers as a part of the Thank America's Teachers program.
Karr's grant will provide equipment for the swimming and cross-country teams at Midland Adventist, including training shoes, swimsuits, caps and team management software for racing events.
The gear will help ensure any student, regardless of financial means, can participate in these new sports programs.
"Teachers across the country are so passionate about what they do, and they are committed to improving their schools in any way they can," said Tu-Han Phan, managing lead of Thank America's Teachers. "It was an honor to surprise Karr with his $2,500 grant today for the supplies to help his students become smarter and better prepared for the future."
Karr is among the second group of 60 teachers to receive a $2,500 educational grant through the Farmers Insurance Thank America's Teachers national program in 2018.
This is the second time this year the small Shawnee private school has been a recipient of the award.
In April, Midland music teacher Steven Hutchison was honored with the same grant.
That money went towards building instrument lockers for the school's new music department.
Through Thank America's Teachers, Farmers has invested over $4 million dollars in educational grants since 2014.
The public helps determine who receives the grants at ThankAmericasTeachers.com.
Farmers presents over 200 $2,500 grants throughout the year in addition to the five $100,000 Dream Big Teacher Challenge grants, which are presented at the end of this year.
More like this story