Shawnee native keeps Navy wing flying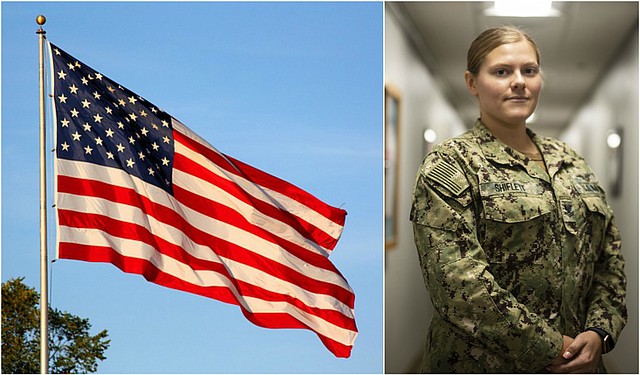 JACKSONVILLE, Fla.—A 2011 Shawnee Mission North High School graduate and Shawnee native is serving in the U.S. Navy aboard Naval Air Station Jacksonville, home to the U.S. Navy's newest maritime, patrol and reconnaissance aircraft.
Petty Officer 2nd Class Cassandra Shiflett is a Navy aviation structural mechanic (safety equipment) serving with Commander, Patrol and Reconnaissance Wing 11 (CPRW-11).
A Navy aviation structural mechanic (safety equipment) is responsible for the oxygen systems and fire protection systems and the seating on the aircraft.
"My favorite part of my job is knowing that at the end of the day, what I do could save someone's life," said Shiflett.
Shiflett credits success in the Navy to many of the lessons learned in Shawnee.
"Work ethics—you've got to work hard for what you want and (I) always stay consistent with my work," said Shiflett.
The P-8A Poseidon is a multi-mission aircraft that is replacing the legacy P-3C Orion. Those who fly in the P-8A hunt for submarines and surface ships as well as conduct intelligence, surveillance and reconnaissance missions.
The P-8A operates with a smaller crew than the P-3C, and it also delivers an extended global reach, greater payload capacity, and higher operating altitude. It also has an open-systems architecture with significant growth potential.
According to Navy officials, there are more than 15 Navy patrol squadrons in the U.S. and eight of those squadrons belong to Wing Eleven, headquartered in Jacksonville, Florida.
This means that those who serve here are part of the first "Super Wing" in Maritime Patrol and Reconnaissance history, ready to deploy and defend America and allies around the world.
Wing Eleven recently added the Navy's newest squadron to its arsenal: Unmanned Patrol Squadron Nineteen (VP-19), flying the MQ-4C Triton Unmanned Aerial System (UAS).
The P-8A and MQ-4C will serve as the future of the Maritime Patrol and Reconnaissance Force, according to Navy officials.
When asked about his plans following his assumption of command ceremony in June, Capt. Craig T. Mattingly, Commodore, Patrol and Reconnaissance Wing 11 said, "Our focus will be to take care of our most precious assets, the men and women of (Wing Eleven). We will sustain current readiness of our P-8A squadrons and reserve P-3C squadron while incorporating the MQ-4C Triton into the maritime patrol and reconnaissance force."
Though there are many ways for a sailors to earn distinction in their command, community, and career, Shiflett is most proud of being accepted into the Blue Angels.
"It's a process to even be considered and difficult to get accepted," Shiflett said.
As a member of one of the U.S. Navy's most relied upon assets, Shiflett and other sailors know they are part of a legacy that will last beyond their lifetimes, one that will provide a critical component of the Navy the nation needs.
"This squadron is great for the travel and seeing the different countries", said Shiflett. "Serving in the Navy is a family tradition from my grandfathers who were in the Army and (I am) carrying on that tradition and protecting our freedoms."