Shawnee teacher honored by Kansas Teacher of the Year program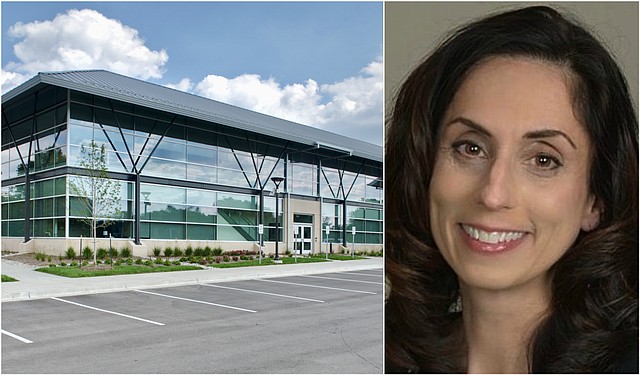 In her youth, Cathy Sheridan watched her autistic brother struggle as a student.
His behavioral issues were often met with unease and frustration in a society were autism wasn't yet commonly recognized.
It was an experience that shaped the Shawnee resident's life.
"I grew up wanting to make things better for him because he had so much potential and so much to give," she said. "Watching what he went through taught me to persist, no matter what, and advocate on someone's behalf."
As an adult, she has turned that empathy into a passion for helping others.
Earlier this month, Sheridan was recognized as the Shawnee Mission School District nominee for Kansas Teacher of the Year during a regional awards banquet.
"It's a privilege," she said. "There are so many other teachers in Shawnee Mission doing fantastic things."
Sheridan, who started with the district in 1997, is currently a special education teacher at Arrowhead Day School, a program tailored for K-12 students with significant emotional disabilities.
The school integrates trauma-informed therapeutic strategies with general education to allow students to one day successfully integrate into general education settings.
Sheridan teaches kindergarten through third grade at the school.
Many of her students have suffered a variety of trauma, which has impacted them to the point where they can't function in a general education system. Sometimes they've experienced an abusive situation and they don't trust adults.
In addition to general academics, Sheridan teaches her students societal skills which most people take for granted, such as how to function in a group setting or interact with other people appropriately. She often uses humor and role-play.
"It's not just about getting their behavior under control, it's about finding those teachable moments," said Sheridan, who has also served as a music therapist and elementary school special education teacher in the district. "In society, we tend to think 'let's deal with it and move on' but you have to work through the problem. It's important to teach them skills to learn how to cope and that takes time."
There is no one-size-fits-all solution to behavioral disorders because every child is different and has faced unique trauma, she pointed out.
"You have to get to know each person and see how they see things," she said. "It's so critical to establish a relationship so you can play to their specific strengths."
Her classroom serves as a safe space for her students. She maintains a calm environment and keeps sensory objects on hand, such as a weighted blanket or trampoline, for when a student gets frustrated or upset.
When a student yells at her, Sheridan doesn't take it personally; she knows its about their struggle
"When trauma occurs, it can stop development because the brain goes through an unbelievable change," she said. "Catching the situation early and assisting the kid before it becomes a more difficult problem is really important, because if you're in fight or freeze mode, you can't learn."
She's proud of each step her students make throughout the year and she often celebrates those victories, no matter how small. Finding the positive in what they do is one of her favorite aspects of the job.
"I've had kids who wouldn't talk or make eye contact in the beginning of the year and by the end of the year, they're making jokes and taking chances," she said.
She is always seeking innovative ways to teach social and emotional learning. Her free time is often spent studying and researching different books, journals and TED talks.
After all, being a teacher doesn't mean just educating students—it means educating yourself as well, Sheridan said.
"You have to change as a classroom teacher because it's easy to get stuck in the 'this works for me, so it's how I do it' mode," she said. "I'm constantly analyzing different strategies and how kids respond to them."
Clear Creek Elementary School art teacher Megan Clark was recently named a finalist for Kansas Teacher of the year. See her story here.