Mill Valley soccer team takes down defending State champion Blue Valley Southwest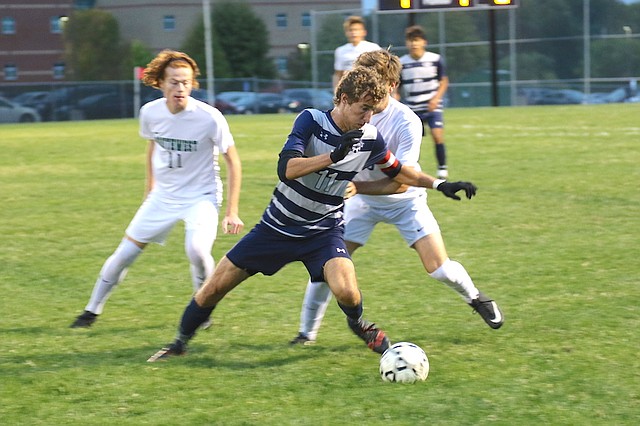 The Mill Valley High School boys' soccer team faced one of the biggest challenges of its season Thursday night. It hosted Blue Valley Southwest — the defending 5A State champions. Through a hard-fought and physical match, Mill Valley (10-2) defeated Blue Valley Southwest (6-4) by a final score of 4-2 to win its seventh game in a row.
Mill Valley struck first to open the game, as junior Ian Carroll knocked through a goal to give his team a 1-0 lead with 24:44 remaining in the first half.
Carroll added another goal near the end of the first half, as he scored with 22.7 remaining to give his team a 2-0 lead heading into halftime.
Blue Valley Southwest narrowed the deficit early in the second half, as it scored with 33:59 remaining in regulation to make it a 2-1 match.
Mill Valley immediately answered, as senior Jake Ashford knocked through a goal with 32:38 remaining in the match to extend his team's lead to 3-1.
Carroll scored again later in the half, as he scored on a throw-in attempt to give Mill Valley a 4-1 lead with 18:35 left in the match.
"It came around and hit the inside of the post. Hitting the inside like that is a goal. That was great," Mill Valley head coach Arlan Vomhof said.
Blue Valley Southwest added another goal to make it a 4-2 match with 13:56 remaining in regulation.
Mill Valley won by a score of 4-2.
"I thought we played awesome. We put things together. We made runs. (Carroll) had a great night. (Ashford) was feeding. All the focus was on (Ashford), which is fine because he can dish to other people," Vomhof said. :For us to come out and get this done is a big thing, especially for my seniors. (Blue Valley Southwest) has robbed us in the postseason. To do this (Thursday) and not have to see (Blue Valley Southwest) in the postseason, is a confidence builder for us."
Vomhof evaluated Ashford's play Thursday.
"He played great. He was ready to play this game. The problem is, these guys know each other. So much of (Blue Valley Southwest) knows so much of our team. It's like having to beat up on your brother. It's a good win for these guys," Vomhof said.
Ashford talked about Carroll's game Thursday.
"He played fantastic. That run he made (on a goal) was great. Everything he did throughout the whole game was fantastic. (Carroll's first goal) just got us hyped up and showed that we could beat them. It gave us the hope that we could," Ashford said.
Mill Valley was able to secure the win thanks to the play of senior Aidan Veal, who made several key saves as goalkeeper. Ashford evaluated Veal's play Thursday.
"In the first half, he had some great saves. In the second half, he had a few. He always finds a way to play great against (Blue Valley Southwest). I can always trust him back (in the goal)," Ashford said.
Ashford talked about what Thursday's win can do for his team through the rest of the season.
"Beating (Blue Valley Southwest) is pretty much our kryptonite. If we play (like his team did Thursday), I don't know if there's a team that we could lose to. We're feeling good going forward," Ashford said.
Mill Valley will be back in action Oct. 9, when it will host Blue Valley West High School.