Shawnee Rotary grants support local organizations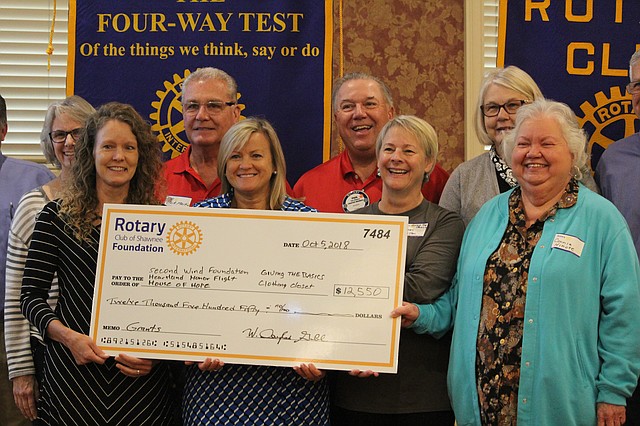 Continuing its commitment to supporting local charities, the Rotary Club of Shawnee recently awarded five nonprofits with grants totaling $12,550. At its meeting on Friday morning, its club foundation presented the checks to representatives from each nonprofit.
The awards are as followed:
Second Wind Foundation received $1,350

Heartland Honor Flight received $700

House of Hope Kansas City received $3,000

Clothing Closet received $3,000

Giving the Basics received $4,500
Proceeds for the grants came from donations raised at the rotary club's biggest annual fundraiser, Taste of Shawnee, and revenue collected from its recent Bike Safety Rodeo.
Teresa Hamilton, founder of Giving the Basics, told the Dispatch she was honored and grateful for the $4,500 grant the Rotary Club of Shawnee presented to her organization.
Giving the Basics provides hygiene products to schools and police departments, to be handed out to community members in need.
The nonprofit organization partners with 231 schools in the Kansas City metro area and also partners with every Kansas City area police department. It also provides its services to 76 pantries in the area.
Hygiene products are a vital need for families in need, because they are items which can't be purchased with food stamps, Hamilton pointed out.
"It's critical to people's success if we can give people the basics," she said. "Just having basic hygiene products—such as deodorant or shampoo—gives people confidence and dignity. It allows them to go out and get a job, so they can buy food on their own. It allows kids to move up to the front of the classroom and start getting A's and B's."
A volunteer for Clothing Closet, a charity run by Metropolitan Avenue United Methodist Church in Kansas City, Kan., told the Dispatch she is touched by the rotary club's generosity.
The charity works in the urban core to provide clothes for those in need.
Normally, the organization runs on gently used donations, but volunteer Connie Hinote told the Dispatch it will be nice to use the money to purchase new items.
"There's something about getting brand new things that puts a smile on people's face and it gives them a positive outlook on life," she said.
The $3,000 grant money will be used to purchase shoes, jackets and school uniforms.
For Shawnee-based Second Wind Foundation, the rotary's $1,350 grant will help dozens of families abroad.
Second Wind Foundation, founded one year ago, is currently helping 50 Honduran families, all who are facing grim poverty or have been victims of atrocious crime.
Long-time Shawnee resident Jackie Doyel founded the company based on her experience running medical teams to Honduras for the past six years.
Second Wind provides two weeks worth of food per month to each family, offers spiritual guidance and medical care, and provides them with job skills.
The organization's goal is for each family to make $25 per day; once the family is on its feet financially, they are graduated out of the program.
"We want to breathe hope into these families' lives," said Doyel.
The grant money will be used to purchase sewing machines and fabric for its sewing program.
Like the other recipients, Doyel was overwhelmed by the rotary club's spirit of giving.
"I'm so grateful for everything the rotary club does in the community," she said. "It's an incredible organization and it's almost like a big family."