Shawnee man injured in car versus tree on Blackfish Parkway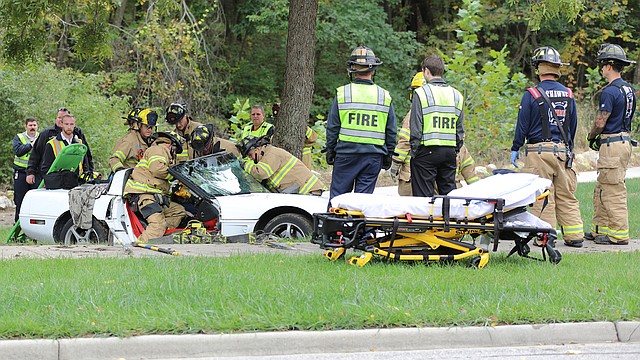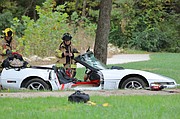 Shawnee Police say a 24-year-old resident of the city was injured early Wednesday afternoon when he slid his Chevrolet Corvette into a tree.
The crash occurred just after 12:15 p.m. in the 13600 block of Blackfish Parkway, just east of Park Street.
Major Sam Larson of the Shawnee Police Department says the 1995 Chevrolet Corvette was westbound on Blackfish Parkway, west of Pflumm Road when the driver lost control.
The Corvette skidded across the eastbound lane of Blackfish, jumped the curb, crossed the sidewalk, and skidded sideways through the grass until it struck a tree on the driver's door.
Firefighters worked for about 25 minutes to free the driver who was trapped inside the car. No one else was in the car when the crash occurred.
Johnson County Med-Act transported the man to the Overland Park Regional Medical Center. The man's injuries were non-life threatening.
Police continue to investigate what may have caused the driver to lose control.
This same stretch of Blackfish Parkway has been the scene of several serious crashes, including one death in June 2014 just across the street from Wednesday's crash.
A car crashed into a house at Blackfish Parkway and Pflumm Road in December 2011.
A man was injured in April 2014 after he failed to make a turn just west of Pflumm Road, crashed through two privacy fences, a backyard, scraped a home's foundation, and then crashed head-on into a tree.
---
Operation 100 News provides overnight news coverage for the Shawnee Dispatch. Follow on Twitter for real-time updates.
More like this story