Meet the Candidates: District 18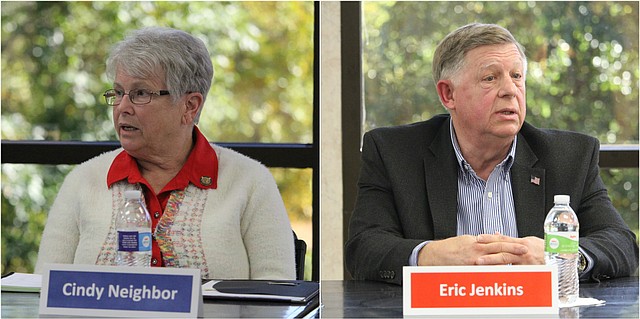 Election Day is only a few weeks away. As Nov. 6 draws closer, district candidates have been participating in forums and going door-to-door in hopes of securing votes.
There are four different state representative election races affecting the city of Shawnee.
On Oct. 11, candidates from each race participated in "Popcorn & Politics," a forum held at the Shawnee Civic Centre.
It was hosted by the Shawnee, Lenexa and Overland Park chambers, in partnership with the Johnson County Public Policy Council.
It was moderated by Phil Hammond, the co-chair for the Shawnee Chamber of Commerce Governmental Affairs Committee.
Candidates from Districts 17, 18, 23 and 39 participated in the forum.
This week, the Dispatch will take a closer look at the forum responses from candidates in Districts 18 and 23.
The responses from Districts 17 and 39 will be in next week's issue of the Dispatch (and online).
Here is a look at District 18:
In District 18, two highly qualified candidates from Shawnee are sounding off to represent a large portion of the city.
Incumbent and Democrat Cindy Neighbor will be facing Shawnee City Councilman and Republican Eric Jenkins at the polls on Nov. 6.
Neighbor is a familiar face on the political scene.
She is a five-term Kansas state representative who also served numerous terms on the Shawnee Mission School Board.
In her role representing District 18, she currently serves as the ranking minority member for the Insurance Committee and she also serves on the General Government Budget and Agriculture committees.
The retired medical administrator is endorsed by numerous organizations, including the Kansas National Teachers Association, Education First Shawnee Mission and the Kansas Equality Coalition.
She is married with four grown children and four grandsons.
To run against her, Jenkins brings his own set of notable skills and experience.
In addition to being a current Shawnee city council member, he spent 21 years on the Shawnee Planning Commission.
He is a retired Colonel with the U.S. Army Reserves, with 34 years experience, including active duty in Iraq and Afghanistan.
He is also a 30-year veteran of FEMA, with experience in community preparedness, mitigation and emergency response.
Jenkins is married with five grown kids. He is endorsed by Kansans for Life, Kansas Chamber of Commerce PAC and Family Policy Alliance of Kansas.
While both maintain impressive backgrounds, each candidate offers distinct views on hot topics currently facing the legislature:
Views on state tax policy
During the Popcorn and Politics forum last week, Neighbor pointed out that when the state legislature did its recent tax increase, it wasn't really an increase, but more of a reinstatement to the 2012 level. She added that the taxes are still under what the 2012 tax percentages were overall.
One of her primary tax concerns coming up, however, is the food sales tax.
"In the future, I'd like to see any opportunity we have to lower the food sales tax because it covers everybody—it's not divided between the wealthy, middle class and poor," she said. "It's something that affects all of us and it's very important."
As a conservative Republican, Jenkins said his top priority as a state representative would be to keep taxes as low as possible.
He said he'd be in favor of creating a tax free weekend in the midst of back-to-school season, similar to what is done in Missouri.
He also believes it is important to grow the tax base, rather than reap taxes on existing Kansas residents.
"I'd like to see us...grow our business and employment here in Kansas," he said. "I think there's a lot of things we can do to encourage business growth and encourage migration of people in the workforce that will help our tax base, rather than raising taxes at all."
Growing the state's workforce
Jenkins said one of his biggest concerns was that the state doesn't have enough tradespeople, which is not only a Kansas problem, but a national one.
"That's where our school system has kind of let us down a little bit," he said. "We've gotten so focused on getting all of our kids ready to go to KU and K-State, we kind of forget there are a lot of kids who don't want to go to KU or K-State—they want to get a job right out of high school. I don't think we've provided a proper avenue for those folks.
"I would like to direct our schools back to a different paradigm where you have an academic track and you have a track where (you) can learn how to be a welder making $40,000 to $50,000 per year."
He also added that by keeping that state's income tax as low as possible, Kansas could become an attractive state to draw future employees across the state lines.
Neighbor agreed creating a qualified workforce in Kansas was of utmost importance. She thinks many educational institutions in the Shawnee-area are on the right track.
"Right now, I know Johnson County Community College is building programs in welding, they have engineering and culinary," she said. "At Shawnee Mission, we have signature programs that are preparing students for the future."
Another area she wants to focus on is transitional education for veterans who arrive home and don't know what they want to do career-wise. She thinks it's important to provide services to train them for jobs and help integrate them back into the community.
Improving the state's transportation
Neighbor pointed out that the state legislature has formed a transportation task force to look at programs for five and 10 years out. Those programs include anything that have to do with transportation, from aviation to shipping to roads.
"We need to look at each of these programs," she said. "We need to go back and put in place highway infrastructure that is safe and solid for all areas in the state of Kansas. It is extremely important in our rural areas because a lot of their trucking work is done out there moving crops. Those trucks are heavier."
She added, "It takes a million dollars a mile to build a road, so it is not a cheap endeavor."
Jenkins agreed the transportation task force was a step in the right direction.
"The primary purpose of government is to uphold public safety and infrastructure," he said. "Those are the two most important things government does and why we really need a government. We need to take care of the health, safety and welfare of our citizens and we need to have good infrastructure that promotes commerce and exchange of goods and services throughout our state."
Drawing economic development and tourism to Kansas
Neighbor said she supported incentive programs, such as STAR bonds, to draw businesses to Kansas.
She also said it was important the state maintain its good education and infrastructure as well.
"What we do have in Kansas is that we are one of the highest rated states in education," she said. "We have that working for us. Schools are truly our economic engine that drives Kansas and places us at the top level nationally."
She added the cost of living should also be another draw for the state.
"When we live here, our houses, our businesses, our supplies don't cost us much," she said. "We have a wonderful cost of living here and we need to utilize that, to advertise that. We need to let people know our communities are safe, we have quality education and infrastructure."
Jenkins said the state of Kansas should promote its hard-working people, many who have strong work ethic to roll up their sleeves and get a job done.
He also thinks it's important to draw tourists from across the nation—many who don't realize the state of Kansas is more than just the flatland and tornadoes they see in the Wizard of Oz movie.
"We don't have mountains, we don't have oceans, but we have a lot more than what people think," he said. "It's downright beautiful around here. Take a jog, you'll be going up and down hills. Look around, there's trees and waters. There's Flint Hills. We have a lot of things people just don't know about because we haven't done a good job in marketing it."
A closer look
Jenkins said his vast emergency management experience with FEMA prepared him for the duties of a state legislator.
He held numerous leadership ranks within the regional division, and even chaired the organization's Regional Interagency Steering Committee
"I've got a lot of experience with interagency coordination and getting folks to the same table and getting something actually accomplished and moving forward," he said. "I think those are skills that will be really valuable for the state legislature."
As a conservative Republican and Kansas resident, he worries the United States is heading towards a nanny-state nation with over-regulations. He wants to see the government be as small as possible, while still effectively providing necessary services.
Neighbor said there are a few areas she wants to address should she be re-elected.
First is the state's prison system: "We have a crisis in our prisons. They're understaffed and have too much population and they're not sanitary, which is why we have riots."
Second, she wants to make sure the state's education system is funded in a stable way, so it can continue to be funded as required by the court and citizens.
And she wants to continue advocating for better mental health care and procedures.
"I am passionate about education, mental health and what the needs are of my constituents of my community and our state," she said.
"We have to work together to find resolution. Not one party or state has all the answers. It just doesn't work that way. We have to start talking with each other and relating to one another."
For more information about Neighbor, visit cindyneighbor.com.
For more information about Jenkins, visit ericjenkinsforkansas.com.
To see District 23, please go here.