St. James finishes in third place at state golf championship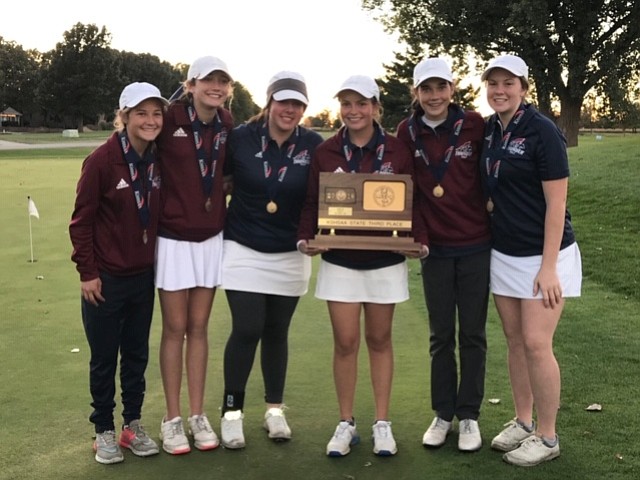 Earlier this week, St. James Academy proved it boasts some of the best high school golfers in the state of Kansas.
The high school's girls golf team finished third at the Kansas Class 5A state golf championship at Hesston Golf Park on Tuesday.
First place was captured by St. Thomas Aquinas; Andover took second.
The St. James team was led by junior Allison Comer in third place. Freshman Beth Grant finished sixth place and sophomore Jane Grant finished 14th, putting the three Thunder golfers in the Top 15.
"Our team had such fantastic attitude and demeanor on the course Tuesday," said Michael Consiglio, the head golf coach for St. James Academy. "A couple girls had slow starts and they just took it one shot at a time and never got down. It is so easy to compound mistakes on the golf course, and they were able to stay positive and focus on the next shot."
He's especially impressed by their performance because the practices leading up to the big tournament were under less than desirable circumstances.
"We had some pretty wild weather with the rain on Friday and the crazy temperatures on Sunday during our scheduled practice rounds," he told the Dispatch. "The girls never complained about the weather one time. They were always ready to play no matter what the conditions were. We could not have asked for a better group of girls and we are so happy to see them play so well."
Consiglio added he's proud of the way the team competed all year long, especially in the postseason.
The golfers agree, the hard work they put in before and during the golf season has been worth it.
Comer told the Dispatch she's grateful for the group of girls she got to call her teammates this year.
Being such good friends off the course helped them on the course, whether it was pushing each other to do better, or simply lightening the mood.
"Every single girl deserves this plaque that we earned and worked so hard for," she said. "I'm so unbelievably happy it turned out the way we hoped and I look forward to growing with this team in the future."
And like most of the other players, her experience on the team has helped her to not only be a better golfer, but a better person as well.
"This season for me I have tried my best to be a good role model for my teammates and show them that not everything is going to go your way but you have to give it your all," she said. "Taking each tournament one step at a time and really focusing has changed the way I play and has made me the player I am today."
Here is the full list of St. James Girls Golf scores from the state championship (player, score, place): Comer, 78, third; Beth Grant, 81, sixth; Jane Grant, 87, 14th; Kelly Krebs, 95, tied for 27th; Alex Cozzitorto, 118, and Maddie Schemmel, 124.