A family affair: Shawnee dad pens coding book for kids, mom illustrates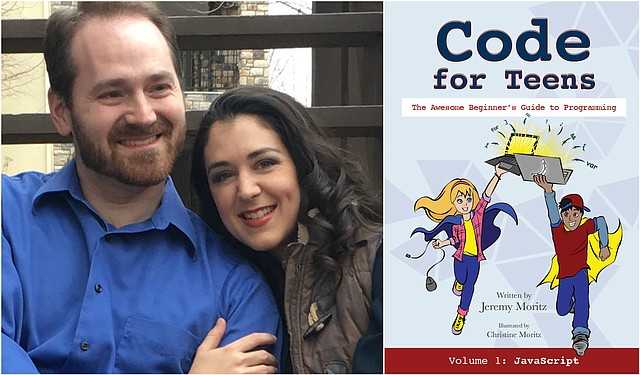 Sometimes you just have to do things yourself.
At least, that's one big lesson a Shawnee dad-of-six learned this past year.
In the summer of 2017, Jeremy Moritz decided he wanted to start teaching his kids coding. His wife, Christine, readily agreed.
"As homeschool parents, we want to teach our kids things that will be useful to them in the future," said Jeremy, a software engineer. "Programming is arguably the most useful skill for their generation."
He purchased several books to teach them, but found many of the books to be too complicated or fast-paced.
"I wanted a book where the average kid could learn coding and understand the content without needing their parents help," he said. "I wanted a book that made coding fun."
After searching some more and coming up empty, Jeremy realized he should just write the book himself.
His wife, a talented artist, agreed to create the illustrations.
"Jeremy is a big dreamer and he comes up with great ideas," Christine said. "We've never written a book before, so it grew out of bouncing ideas off each other."
Jeremy did all the writing; Christine did nearly all the illustrations, with daughter Charity having one of hers in the book as well.
The book, written at a sixth-grade level, features more than 100 original color illustrations.
Titled "Code for Teens," it was released by publisher Mascot Books this summer.
The couple worked on the book together on evenings and weekends.
With programming being a subject Jeremy knew well, he was able to write the content pretty quickly.
"I expected the book to take a lot longer than it did and I expected to get tired of writing it, but I actually really enjoyed it," he said. "I was excited to see that I'm a pretty good writer."
His wife agreed working on the book was a blast. It also allowed the stay-at-home mom an opportunity to express herself creatively.
"It was fun," Christine said. "I wanted to make kids laugh or smile with my pictures. For a children's book, I thought it was important to make each page have personality, be engaging."
The book wasn't just a mom-and-dad project either; it involved the entire family.
The couple's older kids and their friends went through the draft of each chapter and offered feedback.
"Code for Teens" teaches JavaScript, which is the most common programming language in the world and used on 97 percent of all websites.
Jeremy told the Dispatch the book is beneficial for any person, even if they have no desire to become a computer programmer
"Programming teaches very valuable skills," he said. "It shows you how to think abstractly, how to problem-solve, follow directions and deal with relationships. It teaches you how to break something down into components. It teaches you that you can accomplishment things you don't know how to do."
One of the main reasons Jeremy and Christine were able to make the book so lively and engaging is because before they had kids, they had an entirely different life.
The college sweethearts once co-directed a traveling children's theater, which took them all over the Midwest, performing more than 100 shows.
When Christine became pregnant with their first child, the couple settled in Shawnee, which is where Jeremy grew up.
They've been in Shawnee for around 15 years and they now have six kids, ranging from middle school to infancy: Angel, Tony, Harmony, Charity, Chase and Symphony.
"One of the nice things about having a big family is that we have a lot of opportunities to enjoy each other's company and play together," Jeremy said. "Our kids always have friends over, so it gets very lively around here."
But in the midst of all the excitement, the Moritz family isn't done creating books just yet.
Jeremy is currently writing a follow-up "Code for Teens" book, which will focus on HTML and CSS.
Interested in the book?
"Code for Teens: The Awesome Beginner's Guide to Programming" is sold online at Amazon, Barnes and Noble and Books A Million websites.
Also, at codeforteens.com.