Meet the Candidates: District 39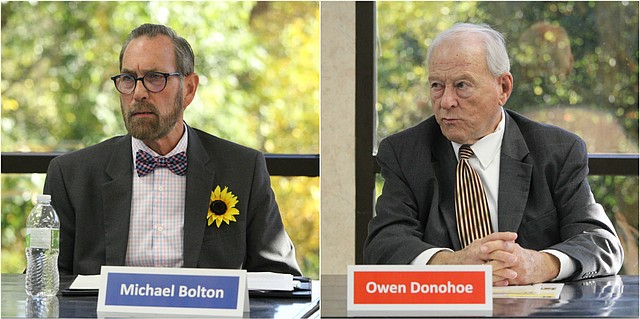 Election Day is only a couple weeks away. As Nov. 6 draws closer, district candidates have been participating in forums and going door-to-door in hopes of securing votes.
There are four different state representative election races affecting the city of Shawnee.
On Oct. 11, candidates from each race participated in "Popcorn & Politics," a forum held at the Shawnee Civic Centre.
It was hosted by the Shawnee, Lenexa and Overland Park chambers, in partnership with the Johnson County Public Policy Council.
It was moderated by Phil Hammond, the co-chair for the Shawnee Chamber of Commerce Governmental Affairs Committee.
Candidates from Districts 17, 18, 23 and 39 participated in the forum.
Last week, the Dispatch took a closer look at the forum responses from candidates in Districts 18 and 23.
This week, we're taking a closer look at the candidate responses from Districts 17 and 39.
District 39
Two male candidates are vying for a chance to represent District 39, which serves parts of Shawnee and Bonner Springs.
Rep. Shelee Brim, who was elected in 2016, isn't running for reelection, leaving the seat open for the upcoming term.
Democrat Michael Bolton will face Republican Owen Donohoe at the polls on Nov. 6. Both are eager to serve constituents in District 39.
Bolton, who labels himself a moderate Democrat, is running because he's worried former Gov. Sam Brownback's tax experiment has negatively impacted the state of Kansas.
The western Shawnee resident is an Eagle Scout and current Boy Scout leader.
If elected, he will work towards ensuring Kansas public schools are fully funded, he will advocate for Medicaid expansion and he wants to legalize medical marijuana.
He is also passionate about helping to turn Kansas into an environmentally sustainable state.
His Republican opponent is also running because he wants to better the state.
Donohoe, a Shawnee business owner and resident, should be a familiar face to long-time District 39 constituents. He represented the district from 2006 to 2012.
The grandfather-of-16 left the position because he didn't want to be a career politician, but after having watched detrimental issues arise during the Brownback administration, he is now running once more because he wants to help make a positive difference for the state of Kansas.
If elected, he wants to help better finance public school classrooms, grow the state's economy without raising taxes and stimulate job growth.
Views on state tax policy
To attract new businesses and jobs, the state needs to boast lower taxes, Donohoe emphasized to the audience.
"Why would businesses want to move to Kansas if taxes are so high?" he asked. "Obviously, we have a tax problem which then relates to a spending problem, which we have to resolve if we're going to be competitive."
Bolton said he looks at the government more like a nonprofit organization. He thinks legislators should allocate funds based on how well each state department is functioning and analyze where improvements could be made, which would help reduce taxes.
Growing the state's workforce
Bolton said he'd like to see more training and schools for kids who want to pursue a skilled trade, rather than a traditional four-year college.
He also thinks the state should be attracting more residents.
"We need more Kansans. Since 2012, there's only 48,000 people that have moved to this state and most of those people were born here," he said. "In Colorado, 619,000 moved there during that same time frame. We need more people to move to Kansas."
Donohoe said to increase the state's workforce, it is important to get people off welfare who are taking advantage of the system.
"We've got to force people to go to work and that will help to increase the labor force," he said.
He also thinks the state needs to resolve its tax issue, if it really wants to see a big impact in the workforce.
"We have to increase jobs (but) we can't increase jobs when we tax businesses so high, they don't want to come in," he said. "It's a problem we created ourselves. It's a problem we can solve. We've got to be more competitive in the tax area."
Improving the state's transportation
Donohoe said in order for the state's transportation projects to flourish, the government has to stop raiding the transportation fund every time it needs money for other uses.
Bolton said he would like to see the state's public works department utilize hempcrete, a biocomposite, instead of traditional concrete.
"Hempcrete does not require any kind of gravel (and) it lasts twice as long as concrete," he pointed out. "We could use it on all of our streets...on driveways...on our curbs."
Funding K-12 education
Bolton said he supports finding efficient ways to fund public education. He also thinks public schools may be too large.
Donohoe said he wants the government to take a closer look at how education funding is spent because he worries a lot of it goes straight into huge paychecks for administrative school district employees or custodial workers, instead of to educators.
"We know the teachers have the most effect, after parents, on students," he said. "How is it that we collect all this money (but) we give it to administration and we give it to custodial and we don't give it to the teachers? We lose good teachers because they're not compensated well enough."
Drawing economic development and tourism to Kansas
Donohoe emphasized once more lower taxes were a huge draw to boost economic development to the state of Kansas.
He also said the government needs to offer reasonable tax incentives to entice new businesses to the state.
Bolton said he wants to utilize the new hemp industry that's growing to bring processing centers and manufacturing plants to the state.
He wants Kansas to become environmentally sustainable and he thinks the state should start finding ways to attract environmentally-friendly or agricultural startups, to give Kansas the reputation of being a place where people go to save the world.