Shawnee Mission Northwest soccer team advances to Regional final with victory over J.C. Harmon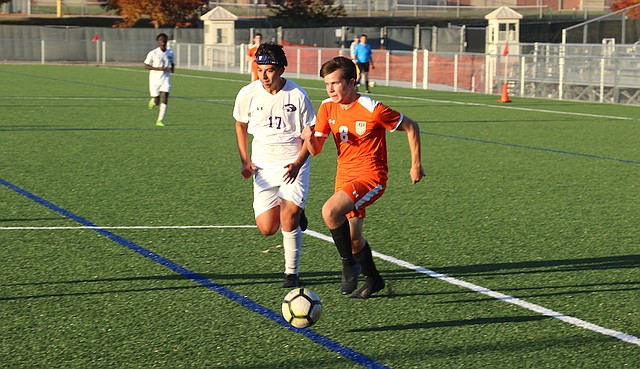 Overland Park — The Shawnee Mission Northwest High School boys' soccer team opened postseason action Tuesday evening, as it hosted J.C. Harmon High School at the Shawnee Mission Athletic Complex in Overland Park. Shawnee Mission Northwest (10-4-3) advanced to the Regional finals match, as it defeated J.C. Harmon (9-6-2) by a score of 2-0.
Shawnee Mission Northwest had a chance to take an early lead, as senior Henry Fears took a shot at a goal with 30 minutes remaining in the first half. The shot was blocked by J.C. Harmon's goalie.
J.C. Harmon had a shot at a goal with 19:44 remaining in the half, but senior goalkeeper Jacob Shreve blocked the attempt.
Fears had another shot at a goal later in the half. He had a one-on-one opportunity with 10 minutes remaining. Once again, Fears' shot was blocked by J.C. Harmon's goalie.
Fears connected on a goal a few minutes later, as he scored with 5:48 remaining in the half to give Shawnee Mission Northwest a 1-0 lead.
Shawnee Mission Northwest carried its 1-0 lead into halftime.
Shawnee Mission Northwest was charged a yellow card at the 36:46 mark in the second half.
J.C. Harmon was docked with a yellow card of its own with 23:40 remaining in regulation.
Shawnee Mission Northwest added a clinching score with 20:58 remaining in the game, as Fears knocked through a goal to give his team a 2-0 lead.
That would be the final score, as Shawnee Mission Northwest held on to take the victory.
Shawnee Mission Northwest head coach Todd Boren evaluated his team's performance Tuesday.
"As a team, we stepped it up. We got it done. At this point in the season, the important thing is that you win and move on. We had a lot of guys step up and fill some shoes. That's what we needed to get it done," Boren said.
Shawnee Mission Northwest played Tuesday's match without the services of junior Cameron Ferencz, senior Henry Tomasic, and junior Tony Ramos. All three suffered injuries in Shawnee Mission Northwest's regular-season finale against Shawnee Mission West High School.
Boren talked about how his team was able to replace the production of Ferencz, Tomasic, and Ramos Tuesday.
"(His team) did well. We had guys step up. They had to step up, or we weren't going to win. They did what they had to do. We talked about it a couple of days ago, and they bore the responsibility," Boren said. "That's why we have a deep roster. Our guys went out there and did what they had to do."
Boren evaluated Fears' play Tuesday.
"In the second half of the season, he's really picked his game up. One of the things I've seen that has elevated him as a player is he's been much more assertive playing in that striker position," Boren said. "That first goal showed that. He drove to the goal and played it to the far post and got one. That second goal was just being opportunistic. I don't know if he knew where the ball was going, but it went into the back of the net. That's what counts."
Fears noted an important aspect of his contribution to Tuesday's win.
"We actually haven't gone out of the first round in three years. This is a super big moment for me, and a super big moment for all of the other seniors," Fears said. "We didn't want to go out (Tuesday). We made sure that it was going to happen, and we got it done."
Shawnee Mission Northwest will be back in action Thursday when it will face top-seeded Olathe Northwest High School (14-2-1).
Thursday will mark the second time that Shawnee Mission Northwest will face Olathe Northwest this season. Shawnee Mission Northwest lost to Olathe Northwest on the road Sept. 18 by a score of 1-4.
"Once the playoff start, (the seeding) doesn't mean much. If you're going to win Regionals and advance to State, you're going to play good teams," Boren said. "Olathe Northwest is a very good team. We battled with them well (in the first matchup). I don't think the score of the first game reflects the type of game it was. We can compete with them. I'll put my team up there against anybody."
Thursday's Regional title match will start at 7 p.m. at the College Boulevard Activity Center in Olathe.