Shawnee Mission Northwest soccer team advances to State tournament with victory over Olathe Northwest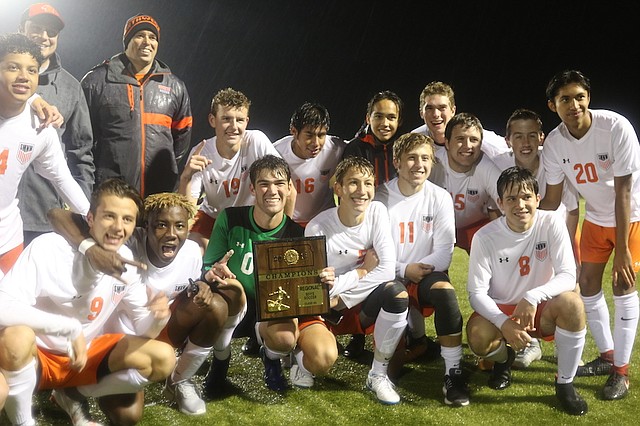 Olathe — A heavy downpour of rain could not dampen the celebration taking place on the field at the College Boulevard Activity Complex Thursday night. The Shawnee Mission Northwest boys' soccer team (11-4-3) had just defeated top-seeded Olathe Northwest High School (14-3-1) to capture a Regional title. It will compete in the State tournament next week.
"This feels absolutely amazing. I've been on varsity for three years. We've been shut out (in Regionals) both years. Both of my older brothers played for (Shawnee Mission) Northwest. They won Regionals. It's really nice to get this winning feeling back," senior goalkeeper Jacob Shreve said.
Shawnee Mission Northwest got on the board early Thursday night. Junior Wilmy Arita dialed up a pass to junior Axel Marquez, who knocked in a goal to give his team a 1-0 lead within the first minute of the game.
Shawnee Mission Northwest's defense kept Olathe Northwest off of the scoreboard for the rest of the half. Shawnee Mission Northwest carried a 1-0 lead into halftime.
"We scored in the first minute. That was huge for us. We got some momentum. We put (Olathe Northwest) on their heels quick. Olathe Northwest came back firing. We had to defend super hard. To go into the locker room up 1-0 was huge," Shawnee Mission Northwest head coach Todd Boren said.
Shawnee Mission Northwest struck again near the beginning of the second half. Senior Henry Fears knocked through a goal to make it a 2-0 lead for Shawnee Mission Northwest with 34 minutes remaining in regulation.
Shawnee Mission Northwest's defense kept limiting Olathe Northwest's scoring opportunities.
Junior Ismaiel Cisse knocked in a goal with 17:41 remaining in the game to give Shawnee Mission Northwest a 3-0 lead.
"(Cisse) has started on (junior varsity). He's one of those kids who we've been trying to develop as the season's gone along. I love his physicality. He brings a different presence than (Fears) when we put him in. There's no quit in that kid," Boren said. "He flat-out muscled his way through two guys. The ball landed on his foot. He calmed himself down and stuck it in the back of the net for (goal) number three."
Fears knocked through his second goal of the night on a wide-open goal after several Olathe Northwest players slipped on the wet grass. Shawnee Mission Northwest took a commanding 4-0 lead with 13:01 remaining in regulation.
Olathe Northwest had a chance to cut into the deficit, but a shot hit the top crossbar of the goal and bounced out-of-bounds to preserve the shutout with 4:30 remaining in the game.
Olathe Northwest was called for a yellow card with 17 seconds remaining in the game. Shawnee Mission Northwest ran the clock out to secure the victory.
Fears' two goals Thursday night gave him four total goals this postseason. He scored two in Shawnee Mission Northwest's first-round victory over J.C. Harmon High School. Boren talked about Fears' postseason performance.
"That kid is peaking at the right time. His season started out really slow as far as goal production. Ever since the midpoint of the season, he's been picking the pace up and he's been scoring some good goals for us," Boren said.
Fears talked about playing in the rain.
"It was actually a blast. Once you get moving around, you're not as cold. The ball moves in a completely different way then it usually does. It was a lot of fun," Fears said.
Boren talked about Shreve's performance in the goal Thursday.
"He came up huge, especially in the second half. He had some killer saves inside his own six-yard box. (Olathe Northwest) were crashing on top of him pretty hard. He owned his net tonight. He owned his area," Boren said.
Boren talked about his team's defensive performance Thursday.
"We came up. We kept the ball out of the net when we had to. (Shreve) had some great saves. Our back line, for the most part, played well. They cleared the ball out when we absolutely had to," Boren said. "Olathe Northwest is loaded with attacking players. They have a bunch of first-team strikers and midfielders. We had to figure out a way to shut those guys down. That was our focus (Thursday). We did that."
Shawnee Mission Northwest will begin State tournament action Oct. 30, when it will face Olathe East High School at the College Boulevard Activity Complex at 7 p.m.