Shawnee Fire Department trains for mass casualty crash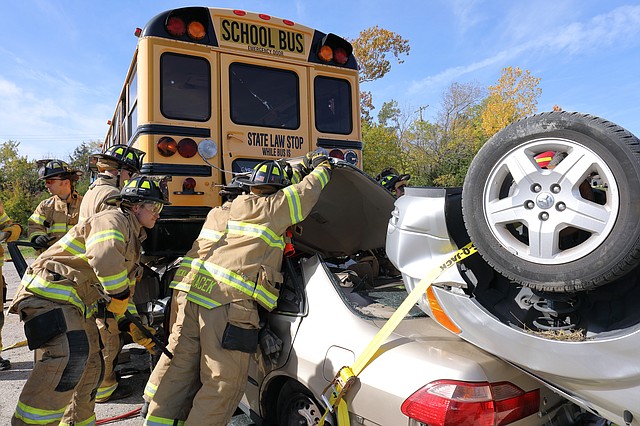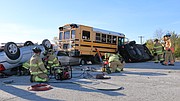 For three consecutive days last week, all 66 Shawnee Firefighters worked their way through a mock mass casualty crash.

Each day the scenario involved a school bus, several vehicles, and volunteers playing the role of injured and hysterical people at the scene.

Last Wednesday's scenario involved 17 victims with varying levels of injury spread among three passenger vehicles and the school bus.

Eleven volunteers filled the school bus, which in the drill had been rear-ended as part of a chain-reaction crash.

One car was partially under the rear of the bus. A second car was on its roof and partly on top of the first car. A third car was rolled onto its side near the front of the bus and was blocking all access to the door of the bus.

Firefighters had to use struts, straps, and large chains to stabilize all involved vehicles before they could begin the work of safely removing all of the injured.

A firefighter and a Johnson County Med-Act paramedic were lifted through the emergency window of the bus to start evaluating injuries inside as other firefighters worked to cut a hole in the wall of the bus.

One-by-one the injured passengers of the bus were lifted off and then moved across the scene to Johnson County Med-Act's triage area where their injuries would be evaluated further.

After all of the victims had been removed from the vehicles, firefighters and paramedics gathered to discuss the drill and assess their response and handling of the various aspects.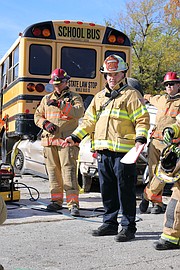 Deputy Fire Chief Sal Scarpa told Operation 100 News this drill was the first time they had the opportunity to use a school bus.
"On a three or four vehicle crash we may see five or six people with injuries," he said. "The school bus changes everything, and we have to be prepared for that."
The school bus was donated to the department for use in the scenario by the Kincaid Group which operates school buses for the Shawnee Mission School District as DS Bus Lines.

Several Kansas City area towing companies also donated the passenger vehicles.
---
Operation 100 News provides overnight news coverage for the Shawnee Dispatch. Follow on Twitter for real-time updates.