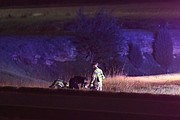 A man was transported by ambulance to an area hospital after he was found in a ditch in the Kansas Highway 7 and Shawnee Mission Parkway interchange early Tuesday.
Shawnee police, firefighters and Johnson County Med-Act were called to the ramp from northbound K-7 to eastbound Shawnee Mission Parkway about 12:35 a.m. after a driver noticed a motorcycle in the ditch.
The driver stopped to call the police and located an injured man was also on the ground near the motorcycle.
Major Sam Larson of the Shawnee Police Department says the motorcyclist was northbound on K-7 and failed to negotiate the ramp to eastbound Shawnee Mission Parkway.
"We are investigating the motorcycle rider for DUI," Maj. Larson said. "His injuries are not life-threatening, but he has several broken bones."
No other vehicles were involved in the crash.
---
Operation 100 News provides overnight news coverage for the Shawnee Dispatch. Follow on Twitter for real-time updates.