Shawnee student helps select ancient texts for library's special collection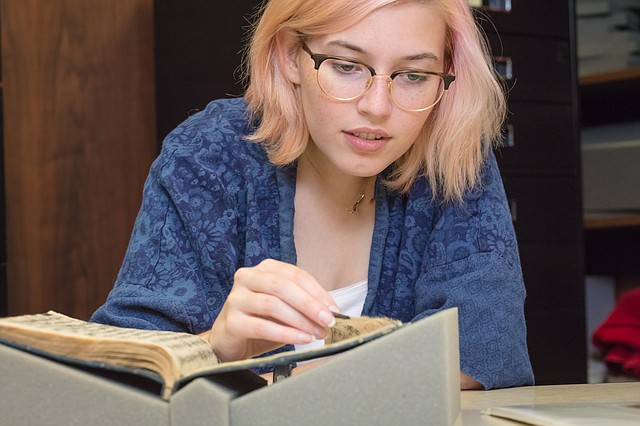 A Shawnee native has found herself in a rare position for any undergraduate student: researching and finding and championing the selection of ancient manuscript's for her university's special collections.
Claire Hutchinson, a University of Arkansas sophomore, took on the task for her school's Mullins Library.
This happened because Hutchinson took an Honors College seminar called, appropriately, "Manuscript."
Finding hand-written volumes for the library was one of the assignments for this honors student.
"We came down to Special Collections a lot to handle the manuscripts, because an important part of the class was this hands-on experience," Hutchinson said. "I noticed that the vast majority of the pieces were in Latin or were Biblical manuscripts from Europe."
She decided to use her assignment to help balance the cultural scales.
Her research led her to propose that Special Collections buy three texts:
A 14-volume history of the Han Dynasty: woodblock prints on Japanese paper, bound in leaf covers made from bamboo and rice, in Japanese from 1690.

A North African scroll fragment of the Torah featuring the Ten Commandments: ink on deerskin, in Hebrew, dating from the early to mid-18th century.


A fragment of the Quran featuring an excerpt of "The Life of the Prophet" from The Arabic Sermons: black and red ink with gold and blue margin ruling, in Arabic, from 1650.
"Claire's proposal had everything we were looking for," said assistant professor Joshua Byron Smith, who taught the course. "She found interesting, affordable items that filled cultural and historical gaps in the library's collection."
Her work helped the university tremendously.
"These are things we've never focused on in our collections," added rare books librarian Joshua Youngblood. "Claire did a very good job emphasizing cultural diversity."
These manuscripts aren't simply display pieces—they're functional, too.
"These are very versatile texts," said Smith. "They will be of interest to a wide variety of departments and courses."
The potential applications, from Islamic cultural studies, to the spread of the Jewish written tradition during the Diaspora, to textual history in general, are broad and exciting.
Hutchinson graduated from Shawnee Mission Northwest High School in 2017.
She is the daughter of Tom and Kerri Hutchinson of Shawnee.