Johnson County Park
&

Recreation District to offer family-friendly activities this month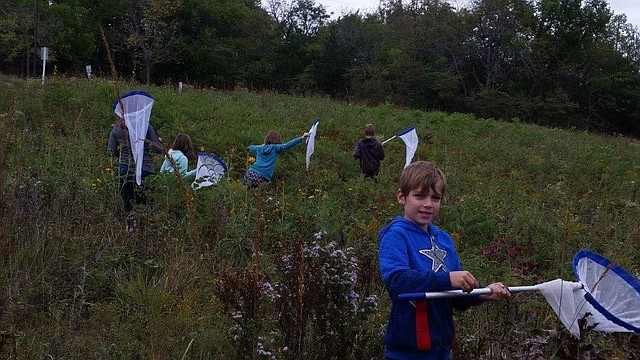 Summer isn't over quite yet and as the season comes to a close, Johnson County Park & Recreation District has numerous events coming up to entertain the entire family.
They are:
Hayrides for groups, individuals coming up this month
Fall hayrides offered for organized groups at Shawnee Mission Park
Enjoy the crisp autumn air by taking a hayride through Oak Ridge Parklands at Shawnee Mission Park.
Organized hayrides for groups are available through the Johnson County Park & Recreation District and conclude with a warm campfire where apple cider and marshmallows await.
Hayrides are tractor-drawn, last approximately one hour, and are followed by a one-hour campfire.
The cost is $7 per person or a minimum of $80 when there are 12 riders or less.
There is a maximum of 25 people per wagon and one adult per 10 children is required.
Hayrides are now being scheduled for dates between Sept. 15 and Nov. 18.
Hayrides take place seven days a week during the above time frame at Oak Ridge Parklands, 7460 Ogg Road.
Reservations must be made at least two weeks in advance of the date of the hayride.
Hayrides fill quickly, so please call early to assure your choice of dates.
For scheduling and information, call 913-831-3359.
For individuals or families wishing to participate in a hayride without having to worry about reaching minimum numbers or placing a deposit, two public hayrides are also eing offered this fall.
One will take place on Sept. 30, while the other will take place on Nov. 4.
Both take place on Sundays and begin at 2:30 p.m. at Oak Ridge Parklands.
The cost is also $7 per person for a one-hour ride followed by a one-hour campfire.
Preregistration is required.
For more information, visit jcprd.com.
Learn about historical flu pandemic, receive a flu shot on Sept. 12
Learn about the 1918 flu pandemic and the modern seasonal flu during the next Lunch & Learn program, which will be presented at 11:30 a.m. on Sept. 12 at the Johnson County Museum, 8788 Metcalf Ave., Overland Park.
This Lunch and Learn is titled The Flu: Worse than the Black Death.
During this hour-long session, there will be two speakers: one from the JoCo Health Services division and one who was a curator of a historic medical collection in Kansas City, Mo.
For this program, the museum will provide bottled water and dessert, but participants should bring a sack lunch.
Health Services will also be offering influenza vaccinations. Individuals who want to participate need to bring insurance information with them.
JCDHE accepts Blue Cross Blue Shield, United, Coventry, Cigna, and Medicare Part B.
Without insurance, the vaccination cost is $30.
This Lunch and Learn ties into the museum's new special exhibit called "The Turbulent Twenties."

The cost is $5 per person for adults, and museum members receive a 20 percent discount, but must register by phone to receive their discount.

The program fee also includes museum admission.
For more information or to register by phone, call 913-831-3359.
'Flight of the Monarch' to be held Sept. 22
Celebrating the monarch butterfly's amazing annual migration is the aim of a special event set for later this month.
"Flight of the Monarch" will take place from 10 a.m. to noon on Sept. 22 at Ernie Miller Park, 909 N. Kansas 7 Highway, Olathe.
The event is designed for children ages eight and up accompanied by a parent or guardian.
Participants will learn about monarchs and other amazing native butterflies.
They will also join in capturing, tagging, and releasing some monarchs to continue their migration to Mexico.
Participants are advised to wear long pants to protect legs and closed-toed shoes to protect feet.
Due to a limited number of insect nets, participants are welcome to bring their own, and they will get tags to take home.
The cost for the two-hour event is $6 per person, including adults, for Johnson County residents, or $7 per person for nonresidents if paid in advance.
On site the day of the event, if space is available, the cost is $9 per person.
To take advantage of the advance registration prices, please register by Sept. 21.
To register online, visit the district's website at jcprd.com, click on "Register for Activities," and perform a course ID search for 11707.
Drawn by late-blooming flowers in a prairie remnant which was restored in the park about 16 years ago, hundreds of butterflies each year make stops from their southern migration at Ernie Miller Park during early September.
Typically, about 80 percent of these visitors have been monarchs, but there have been other species as well, including painted ladies and sulfur butterflies.
The butterflies are being drawn by the tall purple blooms of the gayfeather plant, as well as by other prairie plants including goldenrod and sunflowers.
Many of these plants have come up naturally following prairie restoration projects completed in late 2002 in conjunction with Kansas City Wildlands.
Those projects removed a number of large eastern red cedar trees which previously choked out the sun-loving prairie plants.
Johnson County Museum to participate in Museum Day
The Johnson County Museum will offer free admission on Sept. 22, as part of Smithsonian magazine's 14th annual Museum Day.
The museum, located at the Johnson County Arts & Heritage Center, 8788 Metcalf Ave. in Overland Park, will offer all museum visitors free admission.
Guests may tour the signature exhibition, Becoming Johnson County, and the popular KidScape experience.
The next free day will be on Nov. 21.
The Johnson County Museum is open Monday through Saturday from 9 a.m. to 4:30 p.m.
For more information about the Johnson County Museum, visit jcprd.com/museum.
You're invited to Park Palooza on Sept. 16
Now back for a second year, Park Palooza is a great way to spend a mid-September Sunday afternoon.
This free event promises entertainment, information, and fun for the whole family.
First presented in 2017, Park Palooza was designed as a way of showing appreciation for the community's long-time support ofJCPRD.

This family-friendly celebration includes live music, interactive children's performers, activities for all ages, hayrides, food trucks, and family-priced concessions.
This year's Park Palooza and will take place from 11 a.m. to 6 p.m. on Sept. 16 at The Theatre in the Park, located in Shawnee Mission Park, with a separate entrance at 7710 Renner Road.
This will be a fun-filled day full of activities for all ages.
Based on public input, a few changes to the event have been made for 2018.
This year, the booths representing different JCPRD programs and Johnson County departments will be concentrated around the theater bowl, so participants can be closer to all the activities.
Most of the performers for kids, including Mr. Stinky Feet, will be back for 2018, but there will be only one act on the main stage this year.
The singers, horns, and rhythm section which comprise Atlantic Express will start a two-hour concert of soul, funk, and R&B at 4 p.m.
This year, children's entertainment will be concentrated under The Pavilion, the large shelter located within the fence of The Theater in the Park north of the main stage.
Storytelling with the Ernie Miller Nature Center will be presented from 11:15 to 11:45 a.m.; followed by Mr. Stinky Feet from 12:15 to 1 p.m.; H3TV from 1:15 to 2 p.m.; Mad Science from 2:15 to 2:45 p.m.; and the Johnny and Adam Rhythm and Music Show from 3:15 to 4 p.m.
Roving clowns will be providing entertainment from noon to 3 p.m., and DJ the Balloon Man will be hanging out near The Pavilion from 1 p.m. to 4 p.m.
Additional all-day entertainment will include: colorful and amazing kites being flown by the Great American Kites & Events, face painting near The Pavilion, hayrides and roving characters from the 501st & Rebel Legions.
Food trucks which have signed up to be at this year's event include: Marigold's, Estrella Azul and The Waffler.
In addition, family-priced concessions will also be available at the concession stand inside The Theatre in the Park bowl.
Don't miss the 4 to 6 p.m. concert on the main stage featuring Atlantic Express, one of the top dance bands in the country. Expect a celebration of soul comprised of four singers, three horns, and four rhythm players.
Visit JCPRD.com/parkpalooza for the latest details about this year's event.
Storytime offered at Mill Creek Activity Center
A free new storytime program will be offered later this month at Mill Creek Activity Center, 6518 Vista Drive.
Called MCAC Storytime, this program is for all ages.
It is meant to be an exciting storytime experience that will vary with new and exciting activities.
Presenters may offer books, lessons, songs, and crafts
This program will take place weekly at 10:15 a.m. Mondays beginning Sept. 10 and running through Nov. 12 at the Mill Creek Activity Center.
The first program on Sept. 10 will have the theme "Animal Stories."
Storytime at Mill Creek Activity Center is free and registration is not required.
More like this story