Jake Ashford lifts Mill Valley soccer to 1-0 win over St. James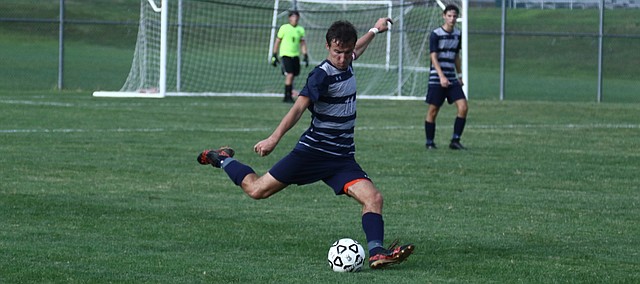 The honors that Mill Valley senior Jake Ashford hauled in last year speak for themselves.
The Creighton commit was named the Eastern Kansas League Midfielder of the Year and Co-Class 5A Offensive Player of the Year, but Ashford wasn't satisfied with the Jaguars falling short of making the state tournament.
Ashford showcased his ability to contribute at each level of the field on Tuesday in the Jaguars' match against St. James, and it paid dividends with a 1-0 victory over the Thunder. The Mill Valley senior scored the lone goal of the match in the 31st minute and played a pivotal role on the back line in the second half to preserve the shutout.
"We have a lot of players that can play a lot of positions," Ashford said. "It helps me to move around when everyone else can move around."
St. James (3-2) was the aggressor in the first five minutes, but Mill Valley (2-1) dictated the tempo in the midfield for the majority of the half to keep the Thunder on their heels. The best goal-scoring opportunities for both teams came on free kicks from just outside of the box, but nearly shot was put on frame.
Chances started to mount for the Jaguars, as they earned five of their six corner kicks in the first half. The Jaguars finally broke through when Ian Carroll set up Ashford to give Mill Valley a 1-0 edge.
"Ian made a great run to get to the ball," Ashford said. "The goal was wide open since the goalie came out. It was a great ball by Ian and a great run and I was just there to finish it."
While Mill Valley coach Arlan Vomhof was pleased to see his team bounce back from a gut-wrenching 3-2 loss to Bishop Miege, he said that the Jaguars still have plenty of things to clean up in the early stages of the season.
"They're still just getting used to playing together because they're all so different. They all play for different clubs and they all have a different mentality," Vomhof said. "So trying to rein all of that in to get into our mold of what we them to do… It's still the third game in and we're very young in the season."
Vomhof is still looking for a few things to click, but he does like the makeup of his squad. The Mill Valley coach echoed Ashford's comments about versatility and depth being strengths of the Jaguars.
"There are times like tonight when we needed to put Jake in back to relieve some issues that we had going on. He can step back," Vomhof said. "We can drop Caleb (Brown) back also. Then we've just got different guys that can fill in."
Anything that was able to get past the Mill Valley back line was stopped by Aidan Veal, who recorded his second shutout of the season. Even in the Jaguars' loss to Miege last week, Vomhof said that Veal played better than the final score indicated.
"He's been very good for us his whole career. He's a solid guy," said Vomhof of Veal. "Last week their (Miege's) winning goal was a free kick where he didn't even see it because they blocked his view. It was unfortunate with that one because he stood there like, 'What did I just do?' I'd encourage him like, 'It's not your fault.' It's just the way they ran that. It is what it is.
Vomhof added, "But he's been really good. He's working really hard to keep the morale up when people do make mistakes. He's being a good leader for us."
According to St. James coach Rick Enna, Veal's counterpart — St. James goalie Christian Kaufman — has been one of the biggest bright spots for the Thunder this season. Kaufman has saved two penalty kicks through the Thunder's first five matches.
"Christian is a quality keeper. He's been great in every game so far," Enna said. "He has been the one consistent component to our team this year. Everybody is working hard. I've got a great group of guys. We're just finding our way at this point."
St. James will be back on the pitch at 7 p.m. Sept. 14 at Miege. Mill Valley will turn its attention to a home tilt against St. Thomas Aquinas at 6:30 p.m. Tuesday.