SMNW

gymnastics takes 2nd at home meet; Molly Stack sets tone for De Soto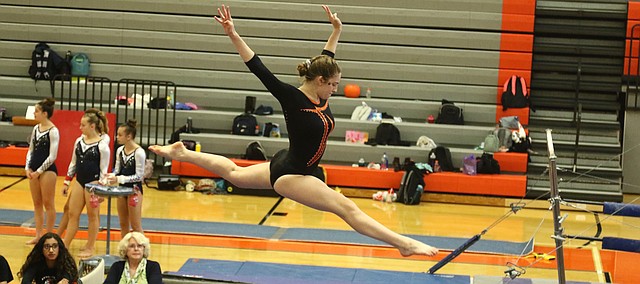 Fresh off of a third-place finish at the state meet last season, the Shawnee Mission Northwest gymnastics team did not shy away from top-notch competition in its first meet of the 2018 campaign.
The Cougars opened their season on Wednesday with a home meet that also included defending state champion Olathe Northwest, 2017 state runner-up Olathe East, Olathe West and De Soto. Jessie Rood's SM Northwest squad was holding out hope that it might start off the season with a victory as the team scores were being announced, but the Cougars finished 0.75 points behind the Hawks for first place.
Disappointment was far from the overall feeling that the Cougars had after finishing second to the Hawks. The Cougars garnered some early-season confidence that the could compete against the best of the best, and they're looking to build on that meet by meet.
"It's super encouraging. We're really excited to have such good competition today," Rood said. "To be hanging with them and be kind of almost head-to-head was encouraging and motivational. We're ready to keep going with it."
The Cougars had two gymnasts earn medals in the all-around competition after Celeste Gordon and Cierra Ladesich placed third and fourth with respective scores of 33.1 and 32.85. Northwest posted a team score of 98.
"It's really cool, especially because it is the first meet. We still have a lot of room to grow," Gordon said. "We'll just get better and better."
Gordon couldn't wait for the season to get started after being missing most of last year due to injury. The SM Northwest senior was the runner-up in the floor exercise with a score of 8.8. Gordon also placed fourth on beam and tied for fifth on vault with respective scores of 8.45 and 8.6.
"I'm especially excited because I still have more that I can do on floor that I didn't even do today," Gordon said. "There's still a lot that I can improve on."
Just like Gordon, Ladesich medaled in three of the four events. Ladesich's best performance came on vault, as she tied for second on vault with a score of 8.65. The SM Northwest sophomore also finished fourth on bars with a score of 7.6 and tied for fifth on beam with a score of 8.4.
Rood said that Ladesich has improved immensely since the end of her freshman season.
"She's gotten a lot stronger — not just physically, but mentally. She's in here to work and she's in here to she's in here to get scores and perform well," said Rood of Ladesich. "It's just nice to see that from her. She's growing up."
Northwest senior Zoe Kopp helped highlight the meet for the Cougars by winning the vault with a score of 8.8. Kopp also tied for fourth on floor with a score of 8.4.
Kopp went on to tie for seventh in the all-around competition with a score of 31.75. and Ellen Schnacker was close behind in ninth after posting a score of 30.9.
"I'm just really excited," Gordon said. "I think the first meet is always tough. I think we came out and did the best we could and we did awesome."
Stack paces DHS, ties for fifth in all-around competition
A lot has changed for De Soto sophomore Molly Stack over the past year, but after looking back on everything, she's much happier.
While Stack was honored to be the first gymnast in De Soto history last year, she wanted to be a part of something that was bigger than herself. Stack has built close bonds with Shawnee Mission Northwest's gymnasts since they practice with each other, but it wasn't quite the same as having teammates.
The De Soto sophomore was the lone varsity gymnast competing for the Wildcats on Saturday, but Stack was thrilled to be competing alongside DHS junior varsity gymnasts Jori Aman, Hayley Ritter and Rebekah Doyel.
"I know we definitely had some lows, but we also had some pretty good highs," Stack said.
Although Stack was excited to be joined by Doyel, Ritter and Aman, she was hoping that the Wildcats would have one more gymnasts in action. The Wildcats are looking forward to adding Annie Winter once she recovers from a broken toe.
"Annie is a very talented gymnast, too," Rood, who also coaches De Soto, said. "We're excited to have Annie when she heals."
Stack can appreciate what Winter is going through since she also battled injuries in the offseason. Even with the offseason not going to plan for Stack, Rood still felt that the De Soto sophomore is stronger than she was at any point of last season. Stack tied for fifth in the all-around competition with a score of 32.6.
The meet didn't start off like Stack hoped it would with the Wildcats competing first on beam. Stack bounced back from two falls on beam to place on vault and bars. The De Soto sophomore tied for second in vault with a score of 8.65 and took third on bars with a score of 8.0.
"I was really nervous for beam because it's kind of my worst event and it was the first event," said Stack of her performance on beam. "It was just nerve-racking, but I felt a lot better after that."
Along with trying to improve on beam, Stack is planning to add some skills to her other routines to score more points. With Stack leading the way for De Soto, Rood is eager to see what the Wildcats can accomplish this season and in years to come.
"It's growing and it's exciting," Rood said. "De Soto is really excited. The whole sport of high school gymnastics is really pumped up about that."