State Farm agent Nick Reed serves Shawnee community with passion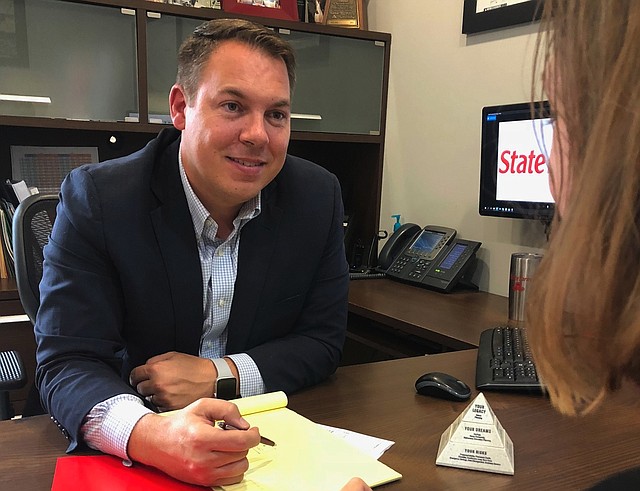 When Nick Reed sells insurance and writes up policies, he sees beyond words on a page.
He understands the emotion each document represents.
Before he was a State Farm insurance agent, Reed was an independent catastrophe claims adjuster, traveling all over the country 300 days per year to help out with claims in the aftermath of hurricanes, hail storms, forest fires, floods and other natural disasters.
It was even in the wake of a major hailstorm in Oklahoma where he met his wife Katie, a Michigan native who flourished in the same career.
"Day in and day out, we saw how having the right insurance policy really changed people's lives after these natural disasters," said Reed. "We also saw what happens when you don't have the right policy."
Shortly after getting married, Reed and Katie decided to leave the whirlwind catastrophe claims world behind them and focus on a more stable career.
"It was exciting and meaningful work, but it was not the lifestyle for raising a family," Reed said.
He added that pursuing a career in insurance, particularly with State Farm, was the most natural next step for them, saying "After having worked their claims, I knew this company could be trusted with taking care of my friends and family and people I made promises to.I knew they would come through."
The couple opened up their State Farm agency 10 years ago near Monticello Road and Shawnee Mission Parkway.
The office moved to its current location, 21632 Midland Dr., two years ago.
As a State Farm agent, Reed's goal is to make sure his customers know their options and he empowers them to make good decisions.
"I want people to walk out that door and think about their family and their job and soccer games and not worry about the 'what if's,'" he said.
Each year, he invites customers to revisit their plan so its refreshed in their mind and gives them the opportunity to make any changes necessary.
Reed, Katie and their two young children live in western Shawnee as well, making their State Farm customers feel more like family.
"This is a community that is almost like a small town but it has access to everything," Reed said. "People in Shawnee like to do business with people in Shawnee, which is something you don't really see other places. I like that when I go to the grocery store or church, I run into customers."
And he's always accepting new customers as well.
State Farm offers auto, home, life and disability insurances, among other services.
For more information, please visit facebook.com/NickReedStateFarmInsurance.