Duderstadt pumped for new job at Pennington
&

Company, thankful for time at Dispatch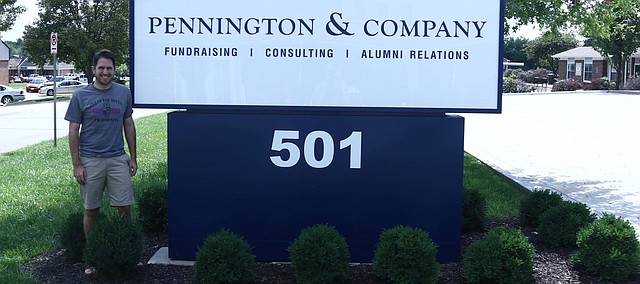 When I interviewed for a sports copy editor position with the Lawrence Journal-World in October of 2013, I can remember being asked the age-old question of "Where do you see yourself in five years?"
While I remember being asked the question, I honestly can't recall what my answer was. I was just happy to be there and thankful for the opportunity.
Well, here I am now nearly five years from that day, and I still assist with Lawrence Journal-World sports coverage while also serving as the sports reporter for the Shawnee Dispatch. One of the best decisions I've made over the past five years was interviewing for and eventually accepting the sports reporter position at the Dispatch in January of 2016. For those of you that don't know, the Dispatch and Journal-World are both owned by Ogden Newspapers.
I have thoroughly enjoyed covering the Shawnee area sports scene for the better of the last three years, but like all good things, that is now coming to an end. On Aug. 30, I was offered and accepted an alumni relations consultant position at Pennington & Company, which is a Greek life fundraising organization based out of Lawrence. My last day with the Dispatch and Journal-World will be Saturday.
My favorite thing about being a sports reporter was not only getting paid to cover sporting events, but getting to know the athletes and coaches and sharing their backstories. Anyone can figure out what happened at a game by looking at a box score, but that never tells the full story. 
Even the best athletes and teams will face some form of adversity over the course of a season and within a game. It's how they respond to that adversity that I always watch for and enjoy writing about. Sports teach so much more than just X's and O's. They teach life lessons and build character that sticks with athletes even after their athletic careers come to an end.
Sports and journalism are two of my biggest passions. While I will definitely miss certain aspects of the day-to-day grind of covering different games, I'm excited to switch out sports with another passion of mine: Greek life. 
After graduating from Shawnee Mission West in 2009 (I'm in denial that the planning of my 10-year high school reunion is already in the works), I was purely focused on running cross country and figuring out if I wanted to be a mass media or sports administration major at Baker University. Joining a fraternity was not close to being on my radar. 
Several of my cross country teammates and a few other friends I made during the first week of college were interested in going through the fraternity open recruitment process, so I figured I would as well to see what it was all about. I didn't want to join a fraternity that only bragged about throwing the biggest parties on campus. I wanted to be a part of an organization that helped me reach my academic and personal goals and that gave me a support system that was there for me when times got tough. I found that in Delta Tau Delta, and my fraternity brothers are still some of my closest friends today.
While I joined Delta Tau Delta, the other fraternities and sororities at Baker do some great things as well. Each Greek life organization at Baker organizes various fundraisers that benefit a certain philanthropy. Members of the other fraternities and sororities often participate in the fundraisers to help out the cause.
I was fortunate enough to move into the Delt house my sophomore year in the midst of a $580,000 renovation project that drastically improved the fraternity. I'm looking forward to joining an organization in Pennington & Company that assists with different fundraising campaigns such as the one that my fraternity brothers and I benefited greatly from.
I'm thankful that my role in Pennington & Company will allow me to continue using my journalism skills. A big part of my job will be writing news and feature articles that will be published in a Greek life organization's alumni newsletter.
Although my time as a full-time sports reporter at the Dispatch and Journal-World is coming to a close, I likely will report on a game from time to time as a freelancer after I settle in at Pennington & Company. 
I have been blessed to work with many reporters, editors, photographers and other employees at the Dispatch and Journal-World that have helped make the last five years a great experience. I know that the Dispatch will continue to be in good hands with Jennifer Bhargava as the news editor.
Shawnee-area athletes, coaches, athletic directors and even most parents have treated me with nothing but respect and kindness over the past few years, and I hope that whoever slides into my vacated role will have a similar experience. I also can't thank the readers of the Dispatch and Journal-World enough for their interest in my stories, and more importantly, high school sports. I haven't worked as a sports reporter in order to receive different awards and accolades. I have done so to highlight the skills and stories of the athletes and coaches in Shawnee and Lawrence.
If we don't cross paths at a game that I'm covering this week, please don't hesitate to message me on Twitter, Instagram or Facebook. The connections I've made in Shawnee have been special, and I wish everyone the best with whatever their future endeavors may be.