SMN

's Katie Kasunic, Asher Molina earn top-three finishes at Olathe Twilight Meet;

SJA

runners embrace opportunity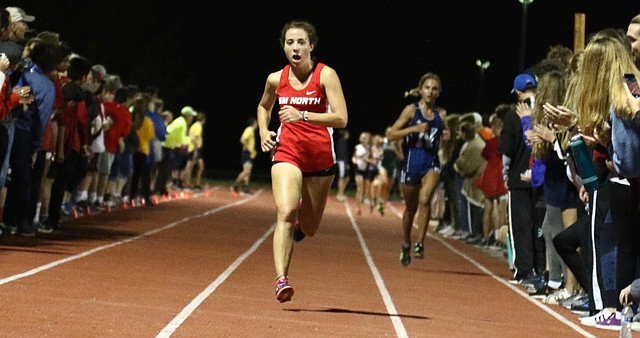 OLATHE — One week after finishing in the top 10 in the varsity races of the Greg Wilson Classic, Shawnee Mission North senior cross country runners Katie Kasunic and Asher Molina were licking their chops with the opportunity to build on that at the Olathe Twilight Meet on Saturday at the Olathe District Activity Center.
Kasunic and Molina both capitalized on the cool at the rare night meet by running to top-three finishes. Kasunic was the runner-up in the varsity girls race with a 5,000-meter time of 19:09.1. Washburn Rural's Jaybe Shufelberger won her second straight meet with a time of 18:54.4.
"It was probably one of the strongest races I've had in a while. I was really proud of our team," Kasunic said. "They all did really well. I know we were kind of hurting a little bit at the end, but we all pushed it and we crossed the finish line happy."
The SM North No. 1 runner knew that the flat terrain of the ODAC course — which included the 300 meters on the track under the stadium lights — would give her a good chance to post a faster time than she did at the Indians' first meet.
"I love it," Kasunic said. "I love hills, but racing flat courses is always really fun because it's really easy to just kind of push it — especially when you kind of have a downward slope on the flat. It's really nice to book it."
Kasunic paced the Indians to sixth place in the team standings with 149 points. Blue Valley North won the meet with 68 points.
Abby Onnen was SM North's No. 2 runner for the second straight week after clocking in at 20:26.4, which was good for 25th place. Caroline Colburn and Keagan Stiers weren't too far behind after placing 30th and 35th with respective times of 20:44.7 and 20:53.3.
Chloe Belgum (62nd place, time of 21:42.3), Lilianne Winston (78th, 22:24), Avienda Berry (98th, 23:23.2), Josie Tyrrell (99th, 23:26.6) and Christianna Kasunic (107th, 24:10.5) were also in action for SM North.
Molina guided the SM North boys to third place, as the Indians posted a team score of 125 points. Olathe North won the meet on the boys side with 47 points.
After finishing 10th at the Greg Wilson Classic, Molina stuck with the same strategy at the Olathe Twilight Meet. Molina went through the first mile at 4:55 for the second straight week, but felt stronger on Saturday night.
"At Greg Wilson I didn't feel that good, but today was amazing," Molina said. "My body was like, 'I can go faster.'"
The SM North senior led the race for about 1,000 meters before eventual champion Ethan Marshall, of St. Thomas Aquinas, set the pace the rest of the way. Marshall and Saints teammate Reece Jones were the only runners to finish ahead of Molina after respectively clocking in at 15:45.50 and 15:54.8. Molina stuck close to Marshall and Jones to come in with a time of 16:00, which was a 17-second personal best.
"I think this race more than ever I was able to calm myself down after the second mile when you're hurting the most. I was able to calm myself down and have a conversation with myself," Molina said. "Coach (Aaron Davidson) calls it the calm conversation during the race. In that conversation I was like, 'Asher, this is nothing. You've worked too hard for this. You've got something to prove. You've got something to prove about your training, your work ethic, your mental toughness.' And honestly it worked amazingly."
Logan Jiskra joined Molina in medaling after finishing 13th with a time of 16:53.2. There was only a 16-second gap between the Indians' No. 3 through No. 5 runners. Austin O'Dwyer took 32nd with a time of 17:14.4. Trevor Maxville was just four places and four seconds behind O'Dwyer, and Zach Bell followed in 44th with a time of 17:33. Sebastian Garcia (81st, 18:04.4) and Parker Kelly (114th, 19:05.9) rounded out the runners for the Indians.
The Indians will race next at 8:30 a.m. Saturday at the Baldwin City Golf Course.
Schneider, Kopecky set tone for St. James
With the majority of St. James' varsity and junior varsity runners competing at the Forest Park XC Festival in St. Louis, Mo., an opportunity arose for a few others to step at the Olathe Twilight Meet.
Matthew Schneider was unable to go to St. Louis because of taking the ACT on Saturday morning, so he jumped at the chance to lead the Thunder at ODAC. Schneider led the way for St. James with a 48th-place time of 17:40.1. The Thunder's top runner noted that the competition and the conditions made the perfect combination for a good race.
"Luke Godard from Aquinas is a really good friend of mine, and he's hitting times that I would really like to hit," Schneider said. "I just kind of stuck with him for as long as I could and based my pace off of him and Mitch Sailer as well. We kind of just worked together, conquered people, eat them up and then just keep pushing on."
Schneider was pleased with how his teammates competed as well. The Thunder placed 16th in the team standings with 438 points. Juan Ballesteros (95th, 18:34.1), Jayson Lock (115th, 19:12.7), Casey Booth (120th, 19:35.9), Will Coup (121st, 19:37.2), Paul Hartman (122nd, 19:39.2), Will Sydzyik (127th, 19:52.4) and Tate Brungardt (128th, 20:05.3) joined Schneider in the varsity race.
"With the real varsity guys out in St. Louis, it was a really great thing for all of the top C-team guys get the chance to run in a varsity race and really improve their times," Schneider said. "Basically I felt like a leader toward them and they really stuck to me a lot better than I thought they would and they just killed it."
Sammy Kopecky was the lone runner competing in the girls varsity race for St. James, but she didn't feel alone at any point of the 5,000-meter run.
"I have a really strong faith life. It's a Marian Consecration day today, so actually what kept me going was my consecration to Mary," Kopecky, who finished with a 89th-place time of 23:00.3, said. "I wrote, 'For Mary' on my legs in giant letters. That's what kept me going through it."
Along with Kopecky's faith fueling her throughout the race, she credited her teammates for the encouragement and pointers that she received. The toughest part of the race for Kopecky was keeping her form in the muddy areas of the course, but she enjoyed the environment of the race with it being held at night.
"I was actually surprisingly calm. I thought I was going to be really stressed out about it, but my friends were super chill," Kopecky said. "They kept me pumped up. It was a lot of fun."
Moore siblings pace St. James in St. Louis
A few of Kopecky's teammates had to deal with much muddier conditions at the Forest Park XC Festival in St. Louis, Mo.
St. James finished 12th in the varsity girls and boys green races.
Katie Moore was the runner-up in the girls race with a 5,000-meter time of 20:49.6. Sarah Murrow also cracked the top five with a fifth-place time of 21:24.5.
Sarah LaPlante (64th, 23:40.8), Christine Znidarsi (100th, 24:30.4), Lily Myers (113th, 24:53.5) and Grace Hartman (137th, 26:05.9) also competed for the Thunder.
Jack Moore was the top finisher for the St. James boys with a fifth-place time of 17:22.9.
Moore was joined on the course by John Matulis (31st, 18:15.5), Mark Schermerhorn (96th, 19:34.7), Brett Ward (101st, 19:40.9), Craig Ollendick (111th, 19:57.2), Tristan Torres (132nd, 20:31.7) and Sam Mauro (135th, 20:39).
St. James will compete next at 9 a.m. Saturday at Wyandotte County Park.