SM

North volleyball sweeps Highland Park, falls to Topeka High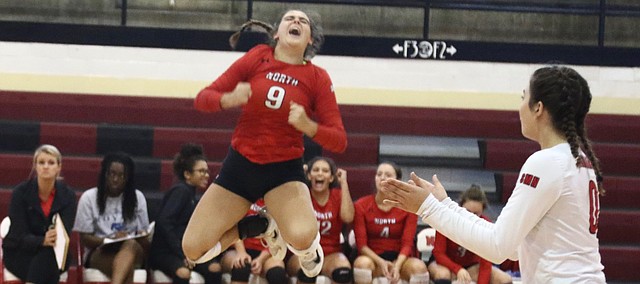 OVERLAND PARK — There has been a lot of learning on the fly lately for the Shawnee Mission North volleyball team, but that's been perfectly fine with the Indians.
After competing at the Lansing Invitational on Saturday, the Indians had a quick turnaround with a home triangular on Monday against Topeka High (No. 9 in Class 6A) and Highland Park. Despite not having a practice to go over the Lansing Invitational and prepare for Monday's matches, the Indians went 1-1 — sweeping Highland Park, 25-12, 25-14, and falling to Topeka High, 25-10, 25-9.
"When we went into the Lansing tournament, we knew we weren't going to have a practice in between and this. So we made sure that during every single game we talked about what we needed to do to get better," Shawnee Mission North coach Crystal Foss said. "Our focus in Lansing was to get better every single game, no matter if it was just at covering tips, playing harder as a team, communicating more. So that's what we went into today was looking into what we did in the Lansing tournament and (figuring out) what we can do better today."
The Indians (1-10) went 0-4 in pool play at the Lansing Invitational, but they made the in-match improvements that Foss was looking for. The closest match of the tournament was their last one in a 25-20, 25-19 loss against Spring Hill.
"We saw us working better together as a team, so that was good to see throughout the tournament," Foss said.
North knew it had its hands full in the first match of Monday's triangular against Topeka High. The Indians were able to hang with the Trojans in the first sets, as Danielle Scaduto recorded back-to-back blocks to cut the deficit to 16-10. The Trojans responded, though, with a 9-0 run to end the set.
"Danielle had a great game against Topeka," Foss said. "We were really excited for that. We're hoping that she can continue that throughout the season."
Between Scaduto and Seville Gates, the middle blocker position has been one of the biggest positives for the Indians this season. Gates recorded a team-high 14 kills in the triangular. Abby Rankin also was a big factor in the Indians offense with five aces.
"She loves getting the ball just like any middle should," said Foss of Gates. "She does a great job as long as we can get our passes high and keep our setters off the net. We can use her as an effective tool."
Gates has been pleased with the Indians' defensive effort over the past few days. While Gates, Scaduto and Noel Rivera have improved with their blocks, they've become more confident in the back row to come up with digs. The lone freshman on the varsity roster is libero Rosa Vega. Gates has been impressed with how Vega has slide into the role that had been filled by Tianna Vervoot, who has gone on to play collegiately at Friends University.
"I think it's awesome that she's here. I'm really glad that we have her," said Gates of Vega. "She's improved so much since the beginning of the summer when I first saw her. I'm really excited for her to get better and start playing club ball."
The win over Highland Park was the first of the season for the Indians. North will try to build off of that, but will have another quick turnaround with taking on Lawrence High and Olathe West in a triangular at 5 tonight in Lawrence.
"It was really exciting," Gates said after North's win over Highland Park. "I hope that we progress from there for when we're in our league."
More like this story