Mill Valley girls tennis makes most of nice weather, defeats Bonner Springs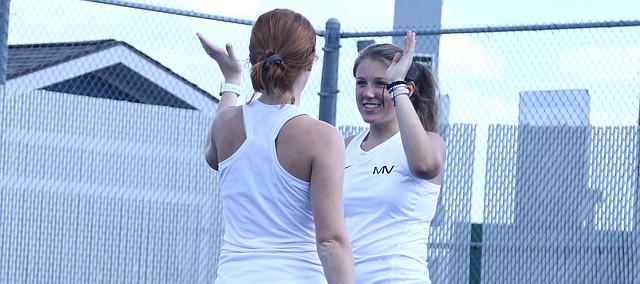 It has been a challenge for area girls tennis teams to get practices in, much less play matches, with above average rainfall through the first few weeks of the high school fall sports season.
Mill Valley seniors Anika Roy and Josie Carey gained a fair amount of varsity experience last years, but have still been trying to find their rhythm as a newly-formed doubles team during the rain-filled season. Roy, Carey and their teammates jumped at the chance to take the court on Tuesday for a varsity/JV-combined dual against Bonner Springs. The Jaguars won all 12 doubles matches and 15 of 17 in singles play.
"I think everyone is kind of on the same page with getting better. At the beginning (of the season), we were all a little bit intimidated," Roy said. "I know we have the threat of moving up to 6A. We had a lot of new freshmen come in. We had 13 seniors graduate last year, so I think a lot of it is just getting that motivation and finding ways that work best for us."
Roy teamed up with Ellie Schaffer to place eighth at the Class 5A state tournament in doubles last season, while Carey was partnered with Peyton Moeder. Carey and Roy coasted to a 6-1 win in doubles on Tuesday.
"I think a lot of it is just trying to see what clicks," Roy said. "Josie and I hadn't played doubles before, so it's been kind of fun this year to try out and practice different stuff that we want to see happen in a match."
Carey's solid groundstrokes and Roy's net play have made the Mill Valley senior duo a formidable doubles tandem. While their focus is primarily on doubles, Roy and Carey are striving to become more well-rounded in singles as well. Carey and Roy both suffered 6-4 losses in their respective singles matches.
"It's kind of getting used to not having another person on the court with you," Carey said.
As Carey and Roy will look to set the tone for the Jaguars in doubles this season, sophomore Sophie Lecuru returns as Mill Valley's No. 1 singles player after taking fifth at state last year. Lecuru didn't feel like she was at her best on Tuesday, but still cruised to a 6-1 victory.
"It's hard to believe that she's even better," said Carey of Lecuru. "It's always fun practicing with her because she helps us so much with her skill."
The other singles winners for the Jaguars included: Dilara King, Avery Altman, Olivia Lecuru, Eden Schanker, Isabella Loya, Carley Hey, Anna Owsley, Mallory Scheelk, Addison Stover, Grace Moser, Kelly Doyle, Olivia Kremer, Sydney Wooton and Abby Steiger.
The tandems of Avery Altman/Jordan Dean, Sydney Day/Ashley Baranczuk, Dilara King/Mallory Scheelk, Emme Hall/Anna Owsley, Olivia Lecuru/Eden Schanker, Isabella Loya/Carley Hey, Addison Stover/Mandy Teasley, Avery Rutkowski/Belle Baker, Abby White/Kiersten Dupriest, Abby Steiger/Kelly Doyle and Olivia Kremer/Sydney Wooton followed Roy and Carey's lead with victories in doubles.
The Jaguars will hit the road for a dual against Shawnee Mission East at 4 today.