SMNW

boys soccer plays Olathe South to 2-2 tie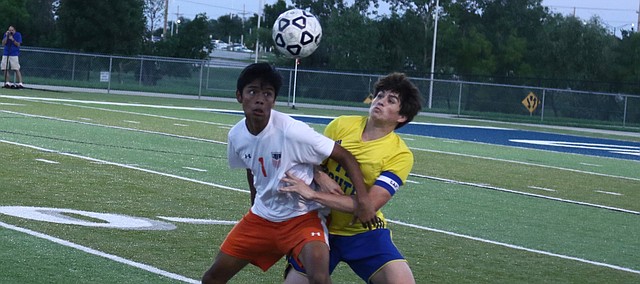 OLATHE — The Shawnee Mission Northwest boys soccer team has logged wins over a couple of quality opponents to jump out to a 3-1-1 start this season, but the Cougars aren't content with it.
After playing Olathe South to a 2-2 draw on Tuesday, SM Northwest coach Todd Boren felt the Cougars should have notched another victory if they had kept their intensity up throughout the match.
"We're doing a lot of good things," Boren said. "The flip side of the coin is though — not to take anything away from Olathe South — but I think for us that this was a winnable game tonight."
The Cougars struck first 10 minutes in when Edy Alvarado blasted a shot from the corner of the box that deflected off an Olathe South defender and into the back of the net. Northwest had a couple of chances to push its lead to 2-0, but was unable to capitalize. The Falcons made the Cougars pay when Joe Wells netted an equalizer in the 14th minute.
"When you play a good team like Olathe South and you probably have about a five or six-minute span where we had good chances to go up 2-0, you can't let those things go by the wayside. You have to take advantage of those things," Boren said. "You have to go up 2-0 against a team like this or you keep that team in the game and they do exactly what they did where they battle back."
The first 20 minutes of the match featured a handful of scoring chances for both teams. Boren clamored for his back line to tighten up throughout the first half, but he credited goalie Jacob Shreve for making five of his seven saves before the break to keep the game level at 1-1.
"Jacob is a senior. It's not his first rodeo," Boren said. "It's his second year on varsity and even as a sophomore he was kind of rotating up. We've just got to get better defensively as a team. Those goals that we let in tonight weren't exactly exceptional goals. Olathe South finished their chances, but again, I think it was more off of our errors with diving in, not being a tight line and not covering each other — just kind of mental mistakes that we need to get better with."
The second half played more between the 18s the the first, but Olathe South broke through in the 56th minute when Bryce Daney tucked a shot just inside the far post to put the Falcons up 2-1.
The Cougars were in jeopardy of dropping their second match of the season before Cole Slack got fouled just outside of the box in the 76th minute to set up a free kick. Slack's strike into the upper 90 on the free kick knotted the game up at 2-2.
"All of the guys respect Cole. Cole is one of our better players," Boren said. "He's always going to be in and around. He's not wearing a captain's band right now, but he plays like he's one of the top guys on the field and he is one of the top guys on the field."
The score remained deadlocked at 2-2 for the remainder of regulation and two 10-minute overtime periods. Boren told the Cougars would be light on Wednesday as they prepared for Thursday's match against SM North. The SM Northwest coach made it clear that the Cougars would need to be mentally prepared to play against the Indians even if they weren't going to have a tough practice beforehand.
"Shawnee Mission North appears to be legit this year. Last year coach (Will Stoskopf, of Olathe South) and I were talking about it that there is a lot of parity in the league, and I think it's going to kind of be the same way again this year," Boren said. "We kind of have to get healed up from tonight because there were a lot of guys cramping and dinged up. We have to focus on getting ready."
The Indians opened up the season with three straight wins before suffering their first loss on Tuesday to Free State. Boren said that the Cougars will need to be on their 'A' game in order to get the result that they're looking for.
"If you underestimate a team like Shawnee Mission North who beat (Shawnee Mission) South, 1-0, and apparently just lost to Free State, 1-0, tonight — North is obviously the real deal this year," Boren said. "We've got to take them seriously and get a win."
The Cougars and Indians will clash at 7 p.m. Thursday at the Shawnee Mission Soccer Complex.