Justin Adrian resigned from the Shawnee City Council on Wednesday and he has been placed on administrative leave by the Olathe School District.
The former councilman turned in a formal letter of resignation to Mayor Michelle Distler, the governing body and City Manager Nolan Sunderman on Wednesday, the city's website states.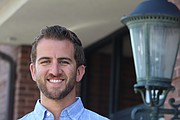 His resignation is effective immediately.
A reason for his resignation was not stated in the news release, however.
Adrian, an Olathe East High School history teacher, was elected last November and he was sworn into the Ward 3 council seat in January.
A spokesperson for the Olathe School District confirmed with the Dispatch that Adrian has been placed on administrative leave since Monday morning.
Since it is a personnel issue for the school district, it was the only information the spokesperson could provide.
Adrian's city council Facebook page and website have both been taken down.
Adrian represented Ward 3, which encompasses a large portion of western Shawnee.
In his resignation letter, Adrian stated he was reluctantly giving up his elected position, but he was doing so for the respect of the city.
The Dispatch recently obtained a copy of the letter. It is below:
Nolan Sunderman, Mayor Michelle Distler and members of the Governing Body –

Out of respect for the city of Shawnee and the city councilmember position I have proudly held for eight months, I have reluctantly and respectfully made the decision to resign from my position as City Councilmember, Ward III effective immediately upon notice.

I greatly thank the city of Shawnee for their kind words of support and I also would like to thank my constituents for their support during the election and after being sworn in.

Respectfully and humbly,

Justin Adrian
Per charter ordinance, if a council vacancy occurs from May 2 to Dec. 31, the remaining council members may appoint someone to fill the vacancy until a special election is called at which time a candidate will be elected for the unexpired term.
The council will discuss the process to fill the vacancy at the Oct. 2 council committee meeting.
The Dispatch will update this story as more details become available.
-Mike Frizzell of Operation 100 News contributed to this report.