De Soto's Issa Sullivan wins Baldwin Invitational; Bailey Ramsdell garners gold at Spring Hill quad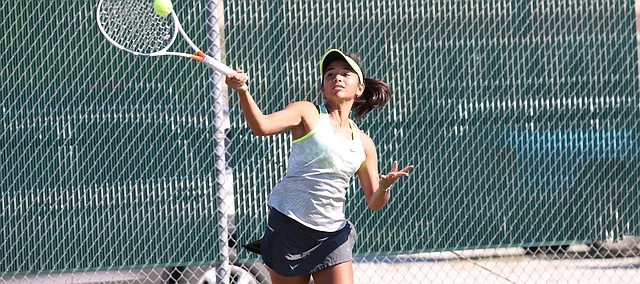 De Soto junior tennis player Issa Sullivan picked up a signature win while making her season debut on Wednesday at the Baldwin Invitational.
Sullivan won the tournament after rallying to defeat three-time Class 4A state champion Brooklyn Hunter, 8-7 (6), after facing a 4-0 deficit against the Hayden senior.
De Soto senior Bailey Ramsdell added a third-place finish at No. 2 singles. Ramsdell highlighted the Spring Hill quad for the Wildcats on Monday after winning at No. 1 singles with a 2-1 record.
Sullivan and Ramsdell guided the Wildcats to fourth place at the Baldwin Invitational. Kasey Seaba/Hannah Hamilton and Jenna Doran/Hallie Scott competed for the Wildcats in doubles — dropping matches against Baldwin and Parsons. Doran and Scott chipped in a second-place finish at the Spring Hill quad after finishing 2-1.
The Wildcats will play next at 9 a.m. Saturday in the Mill Valley Invitational.