De Soto volleyball sweeps Leavenworth, Basehor-Linwood in home triangular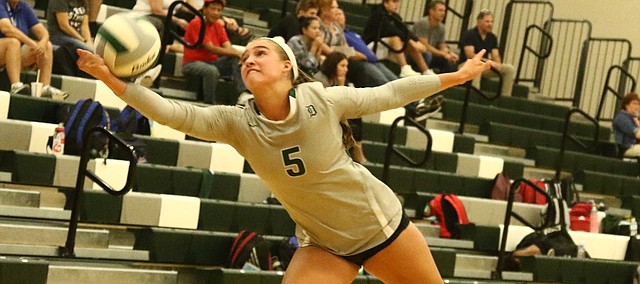 DE SOTO — The De Soto volleyball team has plenty of offensive firepower, but just like any other team, the Wildcats can struggle from time to time at staying in system.
While the Wildcats found themselves in that situation early in the first set against Basehor-Linwood on Thursday at their home triangular, they made sure that another area of their game was on point until the offense came around. Senior libero Maya Bascom laid out for a few digs, and the defensive effort on the back row was contagious from there with Loren Hinkle, Kendall Schmitt, Taylor Ellis and Kaitlyn Bell matching her energy.
De Soto went on to win the set, match and triangular with ease, as the Wildcats swept Basehor-Linwood, 25-15, 25-13, and Leavenworth, 25-9, 25-13.
"That has been our primary focus, to be honest, since the beginning of the season was to really focus on our passing, our serve-receive and our defense," De Soto coach Lindsay Hothan said. "That's something that we do every single practice. I'm proud of how the girls kind of stepped it up with that tonight."
The Wildcats showcased their offensive balance against the Pioneers with Bell and Kyra Halvorsen led the way with seven and six kills, respectively, and Ally Barnhart and Haley Cuba and five each. Hothan's squad has been short-handed of late with Faith Hammontree, Kennedy Higgins and Brooke Stonestreet being sidelined, but Halvorsen and Emma Chacey have taken advantage of the opportunity to contribute.
"It's really nice with nine seniors," Halvorsen, who is one of three non-seniors, playing at the varsity level. "As a freshman and sophomore it was pretty hard because I was scared I wasn't going to get on it (the varsity team). You've just got to keep working hard."
After sweeping Leavenworth, the Wildcats had a long wait before taking on Basehor-Linwood since the match between the Pioneers and Bobcats went to three sets. De Soto got off to a sluggish start against the Bobcats, as Basehor-Linwood built an 9-5 lead.
The Wildcats were able to claw their way back in it — eventually taking their first lead at 13-12. It was all Wildcats from there after De Soto dug in defensively. De Soto put Basehor-Linwood away with a 9-0 run to turn a 15-13 lead to a 24-13 advantage.
Bascom was on the service line during the Wildcats' surge late in the first set against the Bobcats. The Pitt State commit had an ace during that stretch and also recorded two against the Pioneers.
"We always make goals at the beginning of the season like something that we want to bring to every game," Bascom said. "One of my goals is communication and to step up and be a vocal leader on the court. I think that really helps to keep us focused and it reminds me to stay focused throughout the game."
Leadership hasn't been an issue for the Wildcats with having the nine seniors in Barnhart, Bell, Bascom, Hinkle, Hammontree, Schmitt, Higgins, Chacey and Cuba. The lone losses of the season for the Wildcats (13-4, No. 8 in Class 5A) have come against St. James (No. 1 in 5A), Lansing (twice, No. 5 in 5A) and Louisburg (No. 2 in 2A).
The Wildcats will get another shot at Lansing at 5 p.m. Tuesday in a triangular that also features Shawnee Heights.
"I think we're in a great place. I love our team chemistry," Hothan said. "That's what is going to continue to take us far. We just have to focus on continuing to improve every opportunity that we get.
"So no matter who we're playing, we have to challenge ourselves and hold ourselves to a high standard and always strive to reach that standard. That is our goal."