De Soto football shuts out Turner, 56-0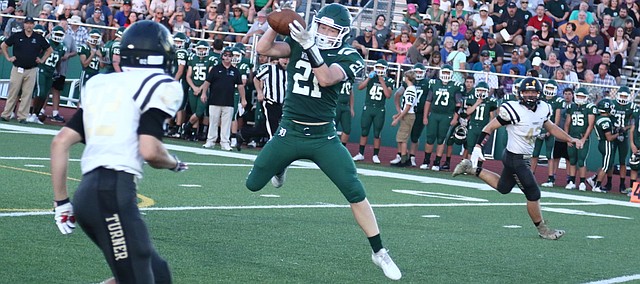 DE SOTO — Despite playing in a new league and moving up to Class 5A, it's been much of the same for the De Soto football team this season.
The Wildcats continued their unbeaten start to the 2018 campaign on Friday with a 56-0 win over Turner at DHS to move to 3-0 in their first season in the United Kansas Conference.
"There are a bunch of new pieces in place for us with losing those 25 seniors last year. There are a lot of new faces on our offense and our defense. The main thing we've been focusing on every week is you vs. you or us vs. us and executing what we do at as high of a level as we possibly can," De Soto coach Brian King said. "We have a lot of guys playing hard right now. A lot of the guys haven't played a lot of varsity football, but they're getting better every week. We just need to continue to get better every week."
Sophomore quarterback Jackson Miller is one of those new varsity players that King was referencing. Miller showcased his skills as a dual-threat quarterback early and often against the Golden Bears. The De Soto sophomore remained cool under pressure with a fourth down completion to Brandon Taylor on the Wildcats' opening drive, and found the end zone from 12 yards out on the next play.
Miller completed all five of his passes for 108 yards and two touchdowns to go along with his score on the ground. While Miller is in his first season as De Soto's varsity play caller, King noted that the sophomore is already far along the learning curve.
"He has done a phenomenal job. He's been running this offense since he's been in third grade," King said. "He's really experienced at it for a kid that's only a sophomore. He's got great speed, he makes good decisions and he's got a great arm. He definitely opens our offense up really well."
Miller wasn't one to talk about his individual efforts after the game, as he deflected all of the credit for the team's early-season success to his teammates.
"Our linemen, they're fantastic. They're just too big," Miller said. "They overpower the other teams. It's all of the O-line."
With Michael Washburn, Victor Berumen, Devin Haynes, Zachary Bergeron and Jarred Peterson providing Miller plenty of time to make the option read or drop back to pass, the sophomore quarterback spread the wealth to the DHS skill players. Miller threw a 25-yard touchdown pass to Keegan Sturdy and connected with Tyson Priddy for a 54-yard score.
Priddy added another 50-plus-yard touchdown when he broke free for a 52-yard touchdown run. Gavin Williams also found pay dirt from 23 yards out in the first half.
"We have playmakers. I just have to get it to them," Miller said. "They make the plays. It's all them."
The De Soto defense did its part as well in the rout of the Golden Bears. Dallas Williams led the way with two interceptions, and had another one that was wiped out because of a penalty. Dallas Williams' first pick set the stage for Priddy's touchdown catch. The junior defensive back took his second interception all the way back for a pick six.
"Really it's just working as a team. We're getting our assignments done," Dallas Williams said. "Everyone is doing their job. Everyone is getting focused."
The De Soto secondary has had a nose for the ball through the Wildcats' first three games. Dallas Williams and Shane Watts have three interceptions apiece on the season. The De Soto defense has only allowed 15 points through three games.
"They've done a phenomenal job of acclimating to the varsity level," said King of Williams and Watts. "I think (Austin) Rosetta and (Zach) Willis — a couple of sophomores — have done a great job, too. They're learning, but they've done a phenomenal job of showing up on Friday night."
De Soto built a 42-0 lead going into the break, but they weren't done quite yet even with a running clock for most of the second half. Connor Brady did most of his damage in the second half en route to logging 12 carries for 94 yards and a touchdown. Watts hauled in a 9-yard touchdown pass from Aaron Mackay to round out the scoring.
Another bright spot for the Wildcats was that they didn't put the ball on the ground after seven fumbles in their season opener and one in Week 2. King did have one cause for concern against the Golden Bears, though, after he saw his team get penalized way more than he would have liked.
"We've got to be more disciplined with some things we're doing as far as our blocking on the edge and tackle to tackle to eliminate some of those penalties and not shoot ourselves in the foot," King said. "It will come along with experience, but the effort is there."
The Wildcats (3-0) will try to keep a clean slate when they travel to Lansing (1-2) at 7 p.m. Friday.
"We can't overlook anyone. The team we overlook is the team that's going to beat us," Dallas Williams said. "We need to focus on every team week by week. Next week is Lansing. We've just got to focus on Lansing. We can't look ahead."