St. Joseph Catholic Church celebrates 150 years in Shawnee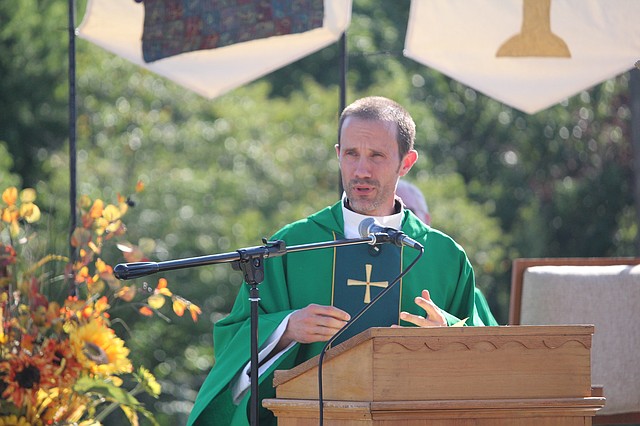 By the mid-19th century, there were seven Catholic families living in Shawnee.
A thriving farming and business community, the picturesque little town attracted immigrants from all over western Europe. A diversity of Christian churches—Methodist, Baptist and Lutheran—began to sprout across Shawnee's rolling green hills.
For many years, however, those seven Catholic families in Shawnee didn't have a spiritual home.
To accommodate them, Fr. Anton Kuhls rode horseback from St. Mary's Church in Kansas City, Kan. to celebrate Mass in the home of Peter Wertz, who owned the general store.
As the number of parishioners grew, Kuhls threw out the idea for building a church.
As luck would have it, several Irish immigrant railroad hands were constructing the new Fort Scott railroad one mile east of Shawnee. As Catholics, they had attended the sermons and they willingly donated their money and services to build the simple frame church.
In the summer of 1868, St. Joseph Catholic Church opened its doors to worshippers for the first time.
When more than 30 people attended Sunday Mass, amazement was expressed about the immense crowd.
A century and a half later, on a sprawling campus, the church, 11311 Johnson Dr., now serves more than 2,000 families.
On Saturday afternoon, to celebrate its 150th anniversary, St. Joseph held an outdoor Mass on its school's football field, with a fall festival afterwards.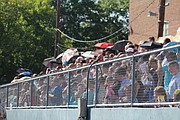 Braving the intense heat and humidity, more than 1,000 people sat in the stands, lounged by the sidelines and stood under trees to watch the historical service.
In his homily, Fr. Scott Wallisch told the crowd that St. Joseph stands on the shoulders of seven or eight generations who have honored Jesus as their savior.
"Here in this stadium, like many stadiums throughout the world, where sports can sometimes be worshipped, ask: 'Am I more important than that?'" he told the crowd. "Surrounded by buildings and opulence and financial needs and worry, Jesus still asks 'but am I more important than that?
"Friends, every generation has said yes and that is why we are here. But will we say the same thing? Say yes to Jesus as our Messiah so that many generations, countless generations, will stand on our shoulders."
During the Mass, gifts were offered to the church by descendents of its founding families to honor its past.
Descendent Dan Pflumm watched proudly while his son and grandson participated.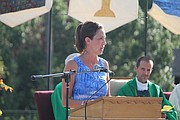 "This anniversary means a lot to my family," he told the Dispatch. "We're all thankful for 150 years in the community and if (St. Joseph) can make it for another 150 years, that will be great."
Pflumm, a Shawnee businessman and former city councilman, believes his ancestors would be proud of how the church flourished.
"We're a big community but it's a family," he said. "There are a lot of good people who go here and everyone has a role and does it well."
His friend Pat McAnany agrees.
Descended from one of the founding families of both the city of Shawnee and St. Joseph Catholic Church, McAnany has nothing but fond memories of his spiritual home.
Soon, he will add another one to his list as his daughter plans to wed at St. Joseph next month.
"Shawnee represents Midwestern values—God and country," he said. "Our parishioners at St. Joseph are so giving and they offer a great combination of faith and commitment to the community."
The worshippers who attended the Mass and fall festival represented a mix of lifelong members and newer ones. At the festival, families enjoyed mingling over a fried chicken dinner and youth played games outside.
One of the people who came to celebrate St. Joseph's 150th anniversary on Saturday had traveled all the way from southern California.
Shawnee native Fr. Michael Stechmann, the pastor at St. Benedict Church in Montebello, Calif., visits his hometown once a year and celebrating the milestone with his childhood friends was something he didn't want to miss.
Stechmann went to grade school and high school at St. Joseph. The church helped guide his faith, allowing him to follow his heart and join the monastery in 1972.
Having watched the church and community evolve over the decades and welcome new members, he echoed the sentiment of many parishioners who consider St. Joseph to be the heart of Shawnee.
"Any anniversary is a hallmark, is a milestone, but when you celebrate 150 years, knowing people have kept the parish alive, that is what is so important," Stechmann told the Dispatch. "People of Shawnee have always considered St. Joseph as home. People come back for major celebrations, from weddings to funerals.
"Everyone is always welcome at St. Joseph. St. Joseph is not a building, it's the people who have kept everything alive for all these years and who are now passing it down to their children to keep it alive."