De Soto High School boys soccer team falls to Turner High School in close match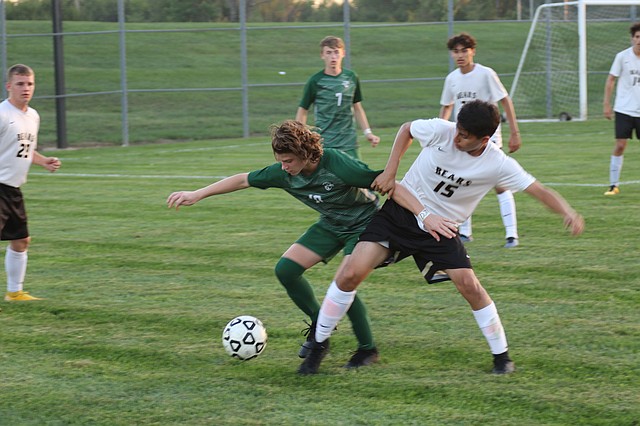 DE SOTO — After a close 0-1 home loss to Lawrence Free State High School Monday night, the De Soto High School boys soccer team (1-5) faced Turner High School (4-2-1) at De Soto High School Tuesday night.
De Soto kept the match close, but ultimately fell to Turner by a score of 1-2.
De Soto head coach Drew Proctor evaluated his team's performance Tuesday night.
"We're in a bit of a funk. We're trying to figure everything out right now. It's like one thing goes wrong right after another," Proctor said. "I think that we've become complacent. We have to start grinding out some wins. We let in an early goal (Monday night) and couldn't come back from it. We let in an early goal (Tuesday), and then we let in a second one that was kind of a fluke. There wasn't much we can do about that. We've got some things to fix."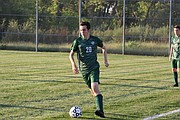 Turner got the scoring going early by connecting on a goal with 32:18 remaining in the first half to take a 0-1 lead.
De Soto's defense prevented Turner from converting any more scoring opportunities through the remainder of the first half.
Proctor talked about his team's defensive performance.
"I thought that our backs played well. We still have a few things that we're trying to figure out, like when to drop and step and figuring out some organization that we're lacking. We defended well," Proctor said.
De Soto had a chance to potentially tie the game at the 30-minute mark in the second half on a free kick opportunity, but Turner's goalkeeper was able to swat the shot away with a diving save.
Turner added another score to take a 0-2 lead with 22:39 remaining in regulation.
De Soto spent much of the second half on Turner's side of the field, as it had several chances to connect on goal opportunities. However, Proctor noted that his team struggled to take advantage of scoring opportunities in the second half.
"That was extremely disappointing. We've got to find a way to score goals. It's going to take some time. If we keep at it, we can figure it out," Proctor said.
De Soto finally broke through at the 3:25 mark in the second half, when junior Gage Stricker knocked in a goal to make it a 1-2 match.
Proctor talked about how his team's offensive approaches changed near the end of regulation.
"We made a little formation change. We went from a 4-3-3 into a 3-4-3. We were trying to get guys forward and create a little more width in our attack. Our energy changed when we switched formations," Proctor said.
De Soto quickly tried to find a way to tie the match during the final three minutes of regulation, but was unable to do so.
De Soto dropped its third game in a row. It will attempt to get back in the win column Thursday, when it will host Mill Valley High School at approximately 6 p.m.