Shooting suspects lead officers on high speed chase into Shawnee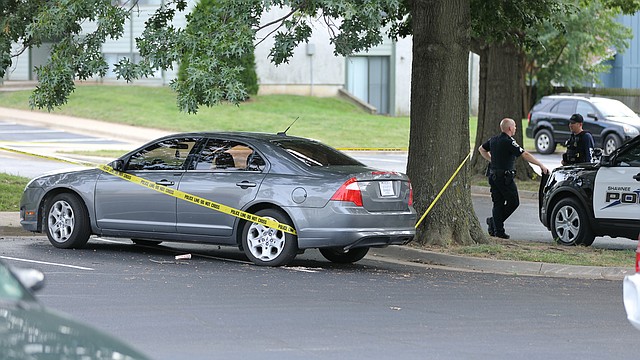 Kansas City, Kan. police confirmed they arrested three people who led their officers on a high-speed chase after a shooting.
Zac Blair, Public Information Officer for the Kansas City, Kan. Police Department told reporters that officers in the area of North 27th St. and Delevan Ave. heard gunshots about 4 p.m. Monday. Blair said the officers moved towards the sounds.
"As they [officers] came around the corner, they saw a vehicle stopped in the street and multiple people outside of that vehicle firing weapons at a crowd of people," Blair said. "We have all three people that we were looking for; they're in custody."
Blair said a woman was shot at the scene in Kansas City, Kan. Her injuries are non-life-threatening, and she was transported by ambulance to an area hospital.
Kansas City, Kan. police said numerous rounds were fired into the crowd, which was estimated to have been "around 40 people" in the area of the gunfire.
"We had our Crime Scene Unit at the scene on Delevan," Blair said. "When I left they had 25 tents up over shell casings."
Blair said the pursuit followed I-635 south to Kansas Ave. and then sped along side streets into further south in Shawnee. The suspect at the wheel was speeding and driving erratically during the chase.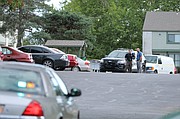 The suspects parked the vehicle in the parking lot of the Cottonwood Park Apartments at 63rd St. and Cottonwood, where all three suspects ran out of the car and into the same apartment. Police said the suspects were arrested there without further incident.
"I think that for some reason suspects think that by going from one jurisdiction to another, they're going to evade police, and really all they do is add the number of resources that are now looking for them," Blair told reporters. "We work very, very well together in the KC metro area."
Police have not yet released the identities of the suspects.
Police continue to investigate the incident. Anyone with information is asked to call the TIPS Hotline at 816-474-8477.
---
Operation 100 News provides overnight news coverage for the Shawnee Dispatch. Follow on Twitter for real-time updates.