John Wesley Beal 1942 - 2016 Shawnee, KS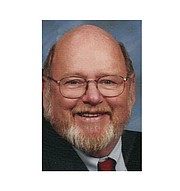 John Wesley Beal, 74, Shawnee, KS passed away Thursday, May 19, 2016 at the Kansas City Hospice House, Kansas City, MO. Funeral Mass will be 10:00 a.m. Thursday, May 26, at Sacred Heart of Jesus Catholic Church, Shawnee, KS. Inurnment will be 1:30 p.m. Thursday in the Leavenworth National Cemetery with Military Honors. Memorial contributions may be made to either, Cancer Action, 10520 Barkley, Ste. 100
Overland Park, KS 66212 or Kansas City Hospice House, 12000 Wornall Rd, Kansas City, MO 64145.
John was born April 30, 1942 in Colby, KS to Wesley Junior and Dorothy Margaret Beal. His father was killed in North Africa in 1943 during WWII. John was a 1960 graduate of Shawnee Mission North High School and attended the University of Denver and University of Kansas. He was a veteran of the US Army, serving in Europe from 1964-67. He was a career journalist, serving as editor at newspapers in Fort Scott, Pittsburg, and Kansas City. He taught journalism and photography at Fort Scott Community College from 1988-2001. In 2008, John re-tired as editor from the Bonner Springs Chieftan / Shawnee Dispatch.
On Oct. 6, 1979, John married Linda Poulignot in Freeman, MO. John enjoyed traveling, woodworking, fishing, and photography. He was an active member of the Shawnee Rotary Club, serving as secretary. He was also a member of the Kansas City Woodworkers Guild. John and Linda attended Sacred Heart of Jesus Catholic Church, Shawnee, KS.
John was preceded in death by his father, mother and step-father, Dorothy and Elmer Chadwick, and sister, Sandra Puhr. Survivors include his wife, Linda Beal; son, Wesley (Joy) Beal, Alexandria, MN; two daughters, Kristin (Sean) Beal, Wichita, KS and Julia (Adam) Ehrmantraut, Dumfries, VA; brother, Bill (Karen) Chadwick; two sisters, Sherry (Steve) Chafin and Nancy (Dave) Harleman; and three grandchildren, Noah and Myra DeGrandmont, and Jonas Ehrmantraut. Online condolences may be expressed at www.amosfamily.com. (arr. The Amos Family Chapel of Shawnee, KS 913-631-5566).