Aaron Michael Lee 1993 - 2017 Ft. Wayne, Indiana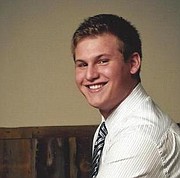 Aaron Michael Lee, 23, of Ft. Wayne, Indiana passed away Saturday, May 13, 2017, from injuries sustained in an automobile accident on I70 in West Terre Haute which also took the lives of his father Brian Lee and Brian's companion Stephanie Swaim. Aaron was a student at IPFW (Indiana Purdue Ft. Wayne) where he was close to receiving his Bachelor Of Science Degree (BSN) from the Purdue School of Nursing and was so looking forward to beginning his career in nursing. He was a graduate of West Vigo High School where he graduated sixth in his class maintaining a 4.0 GPA. He had also attended Sullivan High School in Sullivan, IN and Mill Valley High School in Shawnee, Kansas. He was an academic honor student and a member of the National Honor Society and the Beta Club. He was involved in competitions such as science bowl, academic bowl and robotics. He enjoyed playing all sports, football, basketball, baseball, tennis, golf, swimming and playing pool. He also loved art, drawing, music and playing the guitar. He loved clowning around and making everyone laugh.
He was born August 5, 1993, at Terre Haute. Survivors include: His Mother and step­father Pamela Neddemeyer Biddle and Jason Biddle of Waverly Hall, GA; a sister Kiera Davis and her husband Kyle of San Diego, CA; three brothers Derrick Lee of Kansas, Zachary Biddle and Jacob Biddle both of Georgia; grandparents Doris Lee of Terre Haute, Paul and Cathy Neddemeyer of Ft. Wayne, IN, Bernadine Boles of Georgia formerly of Sullivan, IN, and Scott Biddle of Ft. Wayne formerly of Sullivan, IN; Aunts and Uncles Carmen Biddle of Mesa, AZ, Cindy and Will Mann of Terre Haute, Karen and Martin Myers of West Terre Haute, Mark Lee and Kevin Lee and his wife Linda of West Terre Haute, and Paul Lee of Terre Haute. He was preceded in death by his grandfather William Lee and an uncle Kenny Lee.
Aaron was a member of the Sacred Heart Catholic Church in Shawnee, KS, and St. Jude Catholic Church and Queen Of Angels Catholic Church both in Ft. Wayne. The love for his family was everything to Aaron and he was the best son, brother, grandson, nephew, and friend anyone could have.
Visitation for Aaron will be 4:00 p.m. to 9:00 p.m. Friday in Fitzpatrick Funeral Home, 220 N. 3rd, West Terre Haute, IN. A Graveside Service will be 11:00 a.m. Saturday in Center Ridge Cemetery at Sullivan, IN with Father Jeff Reed officiating. There will also be a visitation from 10:00 a.m. until service time Saturday at the cemetery. Friends and family are welcome to join the family Saturday morning to go in procession to the cemetery leaving Fitzpatrick Funeral Home at 9:00 a.m.