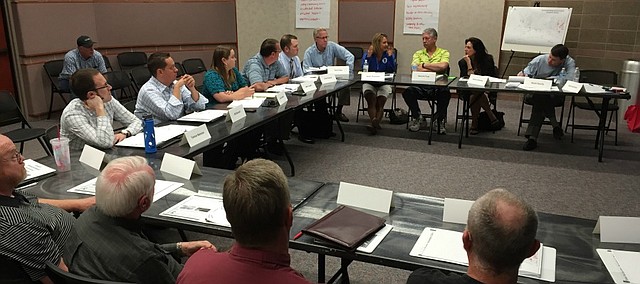 The Street Improvement Program task force met for the first time Thursday at the Shawnee Civic Centre.

Stories this photo appears in:

Eleven streets have been identified by a set of criteria established by the Street Improvement Task Force as the most deserving for repaving, curbing and guttering with $9.7 million of the city's new pavement tax.

The Shawnee Street Improvement Task Force, made up of 12 Shawnee residents, that is assigned with the job of creating a set of criteria for the city to use when choosing which four miles of residential roads to fix is narrowing its list of priorities.

The new 12-member Shawnee Street Improvement Program task force will be looking at traffic numbers, roads near schools and parks and other factors as they create a guide to select residential streets to repair using $9.7 million in sales tax revenue.