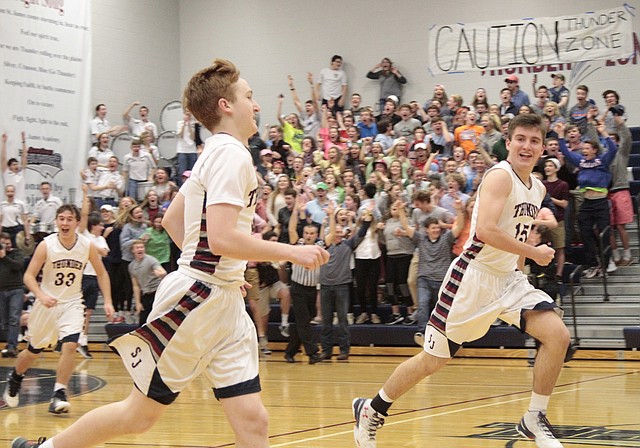 St. James Academy senior Zach Allinder (middle) smiles after hitting a 3-pointer to cap off the Thunder's 100-81 win over Rockhurst on Wednesday. Allinder was mobbed by Jack Moellers (33), Jake Dunsmore (15) and his Thunder teammates seconds later to celebrate his first points of the season, and the Thunder's new single-game school record for points.
Stories this photo appears in:

With the St. James Academy boys basketball team being just three points shy of the century mark in the closing seconds of its rivalry game against Rockhurst on Wednesday, there was one player in particular that the Thunder student section was hoping would hoist up one final 3-pointer. The St. James fans got their wish when SJA senior and Rockhurst transfer Zach Allinder drained a 3-pointer just before the buzzer to cap off the Thunder's 100-81 win over the Hawklets. The Thunder knocked down 12 3-pointers in all en route to setting a school record for points in a game. Spencer Kaifes led the Thunder with seven 3-pointers and 21 points, while Zach Thornhill (20), Will Mckee (18) and Keenan Fitzmorris (17) also scored in double figures.
February 16, 2017 9:03 a.m.