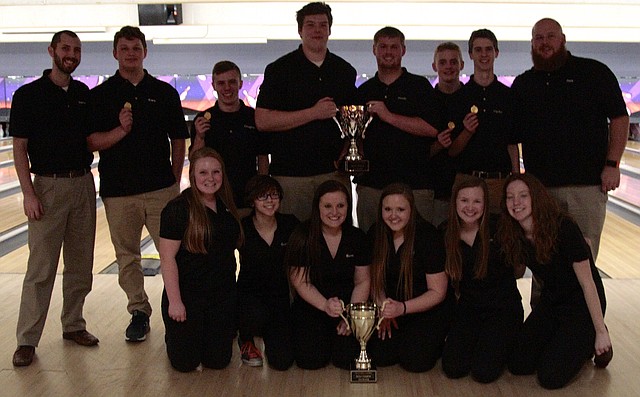 The Shawnee Mission Northwest bowling team gathers for a photo after winning the boys and girls district titles on Thursday at College Lanes. Front row (left to right): Emilia Battles, Charlie Queral, Alaina Burris, Katy Doleshal, Hadley Sayers and Jackie Sayers. Back row (left to right): assistant coach Justin Peterson, Colton Kreie, Garrett Bolin, Kooper Jones, Colton Kinsella, Austin Anderson, Clayton Engelby and head coach Billy Dent.
Stories this photo appears in:

Shawnee Mission Northwest's boys and girls bowlers had a bad taste in their mouths after finishing second last year at the SMSD tournament, and the Cougars were determined to make sure that they would not have a repeat experience on Thursday at College Lanes. After coming home empty-handed in 2016, the Cougars added two SMSD District Cups to their trophy case after claiming first-place finishes in the boys and girls tournaments. Kooper Jones won the boys district title, while Alaina Burris was the girls runner-up for the Cougars. Shawnee Mission North placed second in the girls tournament, and fourth in the boys competition. Jazmin Burch finished fifth to lead the SM North girls, and Travis Wunderlin was the boys district runner-up for the Indians.
February 17, 2017 7:47 a.m.