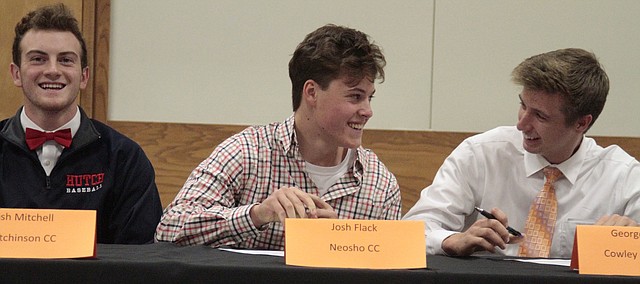 Shawnee Mission Northwest senior baseball players Josh Mitchell (left), Josh Flack (middle) and George Specht (right) all flash smiles after signing their national letters of intent on Wednesday.
Stories this photo appears in:

The nine Shawnee Mission Northwest student-athletes who signed their national letters of intent on Wednesday in the school's cafeteria will be taking different paths at the next level, but SMNW athletic director Angelo Giacalone and their respective high school coaches helped them understand that they will need the same character traits on their journeys. Before Morgan Berry (Ottawa, volleyball), Alaina Burris (Ottawa, bowling), MaKenzie Cooper (Central Missouri, softball), Emily Wells (Cloud County, softball), Alex Rice (Cloud County, baseball), Josh Mitchell (Hutchinson, baseball), Josh Flack (Neosho County, baseball), George Specht (Cowley County, baseball) and Molly Born (Oklahoma State, cross country/track) signed their letters of intent, Giacalone said there was one word that he felt best described all of them. Giacalone defined the word grit, which means "courage and resolve; the strength of character" before outlining an acronym that further described other qualities they will need as college athletes.
November 9, 2017 3:34 p.m.