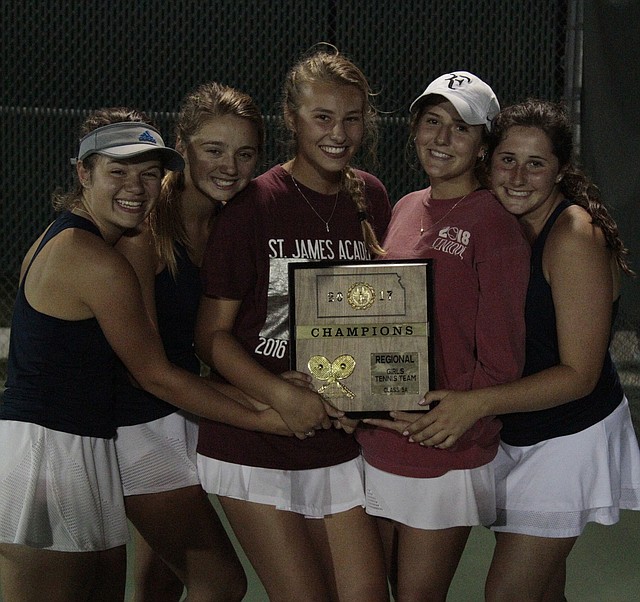 From left, St. James Academy junior Tara Devine and seniors Jillian Kubicki, Meredith Bierbaum, Catherine Rieke and Ryan Starkey hold the Class 5A girls tennis regional championship plaque on Saturday at De Soto. All five players qualified for the state tournament along with freshman Gabbi Taylor (not pictured).
Stories this photo appears in:

In what would normally be one of the most stressful matches of a regional tennis tournament, there was nothing but laughter, a few jokes and a joyful hug during Saturday's doubles final. St. James Academy junior Tara Devine and senior Meredith Bierbaum defeated their teammates, seniors Jillian Kubicki and Ryan Starkey, 6-3, 6-2, but there were smiles all around since the Thunder had won a Class 5A regional title and were sending all six of their players to state. It's the first time in school history that the Thunder qualified six players for the 5A state tournament, which will take place Friday and Saturday at Maize South. Catherine Rieke and Gabbi Taylor finished second and fourth, respectively, for the Thunder in singles. Mill Valley finished second behind third-place finishes from Sophie Lecuru and the doubles team of Anika Roy and Ellie Schaffer. De Soto sophomore Issa Sullivan won the regional singles title, and led the Wildcats to fourth place.
October 9, 2017 3:52 p.m.