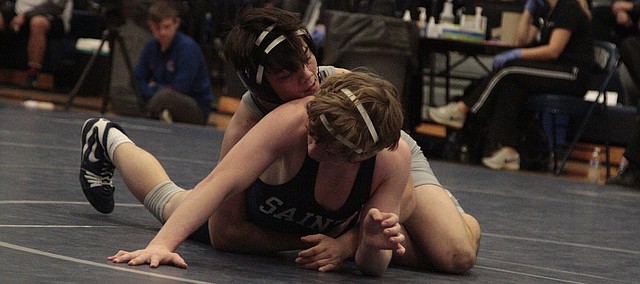 Mill Valley senior Bryson Markovich wrestles from the top position against St. Thomas Aquinas' Johnny Akin in the 132-pound title match of the Eastern Kansas League tournament on Saturday at MV.
Stories this photo appears in:

Mill Valley wrestlers Zach Keal, Bryson Markovich, Conner Ward and Jarrett Bendure and St. James grappler Cade Lautt have some lofty goals in mind that they're setting forth to accomplish in the next few weeks, and they're feeling a little bit better about them after Saturday. Keal, Markovich, Ward, Bendure and Lautt all won their weight classes at the Eastern Kansas League tournament at Mill Valley. The Jaguars tied for second place with Blue Valley Northwest — just six points behind three-time defending champion BV Southwest — while the Thunder finished sixth.
February 6, 2018 9:04 a.m.