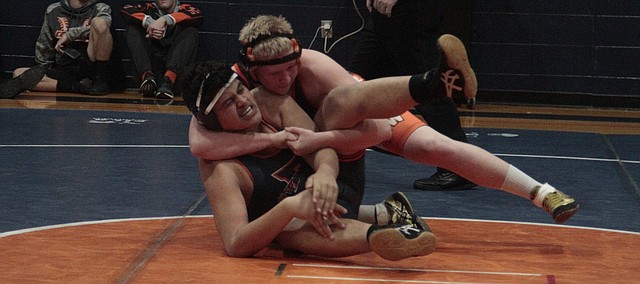 Shawnee Mission Northwest's Will Heitman maintains control in the second period of his match against Olathe East's Frankie Ross on Wednesday. Heitman pinned Ross in the third period, but the Hawks edged the Cougars, 42-33, to win the dual.
Stories this photo appears in:

As the dynamic duo of Jerad Habben and Charles Brockmann watched from mat side, the message was clear for the young Shawnee Mission Northwest wrestling team that Wednesday's dual against Olathe East was a chance to shine in the spotlight. There have been a lot of growing pains for the Cougars with a majority of the lineup seeing varsity action for the first time this season, but they have bought into the slogan of "Love the Process" that coach Howard Newcomb borrowed from Iowa State football coach Matt Campbell. A few of SM Northwest's wrestlers were able to reap the benefits of loving the process during the Cougars' 42-33 loss to the Hawks. The trio of Caleb Rosebaugh, Alvin Horner and Will Heitman all won by fall, and Tyler Munsaykhan won by decision to highlight the dual for the Cougars.
January 11, 2018 2:21 p.m.