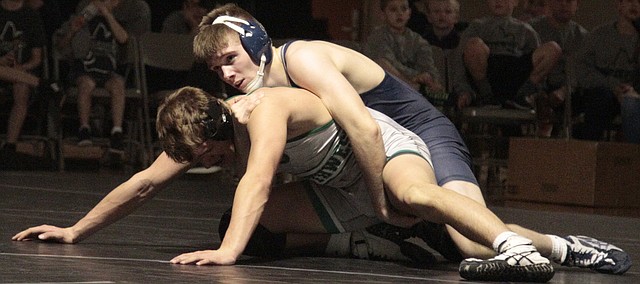 Mill Valley senior Jarrett Bendure controls his match against Blue Valley Southwest senior Matthew Stack during the Jaguars' dual against Blue Valley Southwest on Wednesday. While Bendure won his match by major decision, the Jaguars lost to the Timberwolves, 33-29.
Stories this photo appears in:

After Blue Valley Southwest earned a one-point dual victory over the Mill Valley wrestling team on the Jaguars' senior night last year, Travis Keal's squad hoped to turn the tables on the Timberwolves on Wednesday at their place. The Jaguars (ranked No. 5 in Class 5A) went down to the wire with the Timberwolves (No. 3 in 5A) again on Wednesday, but they came up just short — falling to their Eastern Kansas League foe, 33-29. Zach Keal, Bryson Markovich, Conner Ward, Jarrett Bendure, Hayden Keopke and Ethan Kremer won their matches for the Jaguars. They'll return to the mat at 6:30 tonight for senior night against Leavenworth.
January 18, 2018 3:16 p.m.